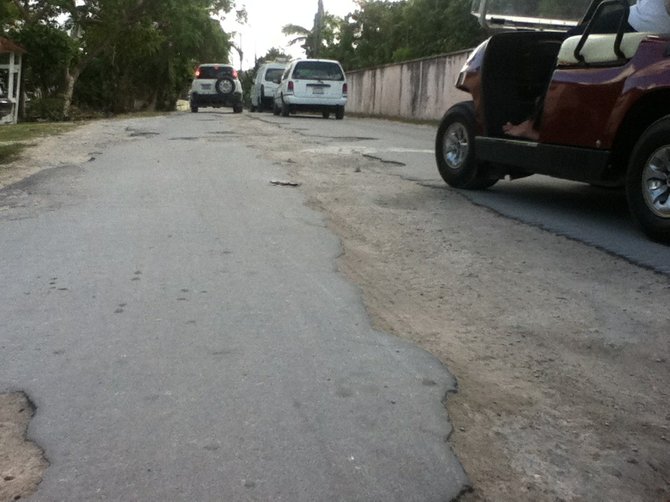 BY CHESTER ROBARDS
Tribune Senior Reporter
crobards@tribunemedia.net
HARBOUR Island residents said they are incensed that their roads have yet to be paved following infrastructural upgrades that have been completed for months.
Chief Counsel for the island Jermaine Johnson said the pitted roads may have contributed to two deaths on the island and a decline in tourist satisfaction.
He explained that a woman died after she fell from the back of a golf cart and hit her head, while traversing Harbour Island's roads.
"It's dampening the tourism industry and it's doing us really bad," Mr Johnson said.
He said Central Government has not yet told him when the roads will be repaired. "I pray (they will be fixed) soon, but there's no concrete answer yet, but I pray it's extremely soon," he explained.
According to Mr Johnson, the community came together to attempt to fill the worst parts of the road with fill they obtained from local companies and old tar that was found at the local government office.
"We just tried to get out and do it ourselves because we can't wait for government to do it because it might take too long," he said.
PLP candidate for North Eleuthera Clay Sweeting said the roads have only gotten worse since October 2010, when the road project began. And he added that the reputation of the island has taken a hit as well.
"Tourists have been making complaints at the tourism office there by the airport in the complaints box and nothing is being done to protect Harbor Island," he said.
"It took the people of harbor island once again to care about the community to try to make the roads smooth, but without central government to pave the road it's really not too much they can do. People are getting hurt."
Owner of Hibiscus Landscaping in Harbour Island Peter Higgs insisted that Harbour Island could be one of the top islands in the world once again if the roads are repaired.
"If the government can come and help us out with the roads - that's first," said Mr Higgs
"We had the water fixed, now we have to have the roads fixed."