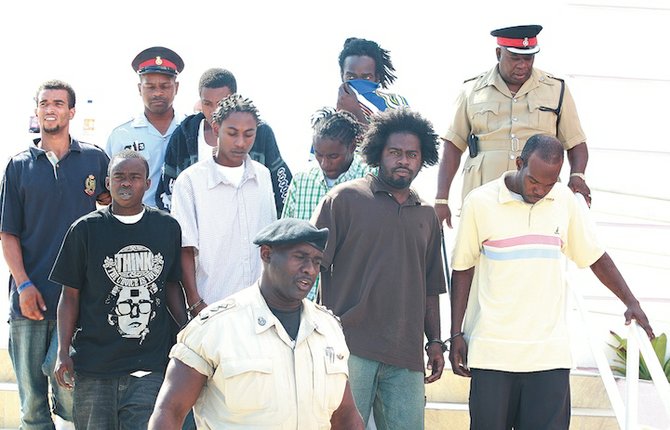 By LAMECH JOHNSON
Tribune Staff Reporter
ljohnson@tribunemedia.net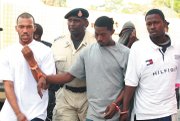 FIVE MEN and a juvenile boy were arraigned in Magistrate's Court yesterday in connection with a number of armed robberies over the past month.
The first pair to be arraigned before Chief Magistrate Roger Gomez were brothers Telson and Brenson François.
Telson, 21, and Brenson, 23, are accused of robbing a cashier at the Wulff Road John Chea supermarket on March 29.
An undetermined amount of cash was taken.
They were not required to enter a plea to this charge, but pleaded not guilty to assaulting police officers with a handgun.
Telson was charged separately with firearm possession. He denied the charge.
They were remanded to prison until completion of their trial, which will take place in Supreme Court.
A Voluntary Bill of Indictment will be served on them in Magistrate's Court on June 26.
Also expected to be served with a VBI on that date are Jermaine Jones and a juvenile boy.
It is claimed that while in Dundas Town, Abaco on March 24, the pair robbed Shannon Albury of a Rolex watch valued at $16,000 while armed with a handgun.
Jones pleaded not guilty to the firearm possession charge.
He and the boy are further accused committing a burglary in the same town, which took place the following day at the home of Rodney McIntosh.
It is claimed the pair, armed with a handgun, attempted to rob the victim of a $10,000 gold chain.
Jones again plead not guilty to the firearm charge.
It is further claimed that on March 26, while in Crown Haven, Abaco, the pair stole and received a $95,000 Boston Whaler boat belonging to William Pinder.
They pleaded not guilty.
Speaking for the juvenile, attorney Ian Cargill made complaints of police brutality against his client and claimed that police would not allow an attorney, parent or guardian to be present while the boy was being interviewed.
The chief magistrate noted the complaints and remanded the pair to prison.
Benjamin Ramsey, 24, Michael Johnson ,21, and Jevano Forbes, 21, were the last to be arraigned in connection with armed robbery charges.
The trio are accused of conspiring and committing the armed robbery of Select Wash Laundromat on March 12. An employee was held up and robbed of $250 belonging to the establishment.
They were not required to enter a plea to the charge and were remanded to prison until completion of trial.
Their VBI service date is set for June 21. Ramsey and Johnson were represented by Michael Kemp.