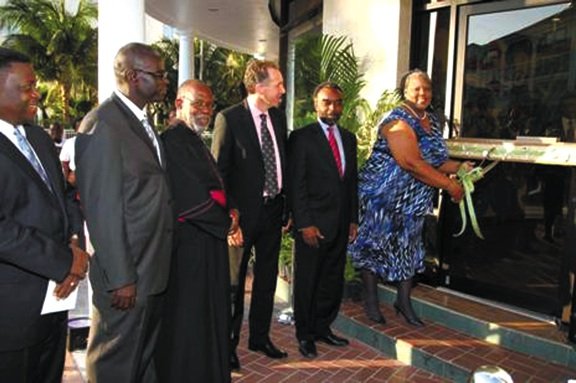 By NATARIO McKENZIE
Tribune Business Reporter
nmckenzie@tribunemedia.net
THE growing demand for smart phones has boosted sales at the Bahamas Telecommunications Company's (BTC) Mall at Marathon location by 35-40 per cent year-over-year, its chief executive has told Tribune Business.
In an interview with Tribune Business during the opening of BTC's latest retail outlet on Bay and George Streets, Geoff Houston said customer response to the company's retail offering has been positive.
Mr Houston said: "Customers are loving it; our sales are up. The response has been very positive. If I look at Marathon Mall, for example, based on the previous year our sales are up 35 to 40 per cent, so it's quite significant.
"A big part of that is this whole drive towards smart phones. That has really turned on a lot of customers. The Samsung 4G phones, in particular, are going down really well."
Mr Houston said he was optimistic that "within a matter of weeks" a Bahamian entrepreneur would be operating one of BTC's retail outlets.
"We have four openings set for this month. The numbers vary quite a lot. We said at a minimum we would aim for 35 stores. My feeling is that we will have a lot more than 35 to cover the whole of the Bahamas. What we expect is that 75 per cent of those will be owned by local Bahamian entrepreneurs; they won't be owned or run by BTC," he said.
Mr Houston added: "There are a whole lot of them out there. There's been a lot of interest. The challenge is that we have to reengineer the whole company to manage those entrepreneurs.
"So how we manage the whole linguistics, inventory, commission, training, all that needs to be worked out inside BTC, because it's a brand new way of working for BTC. It's not that we can't find the entrepreneurs; we have to run quickly now to reengineer our business to service those new entrepreneurs.
"I'm very optimistic that we can get one out in a matter of weeks. We are in active discussions now with an entrepreneur about a particular location, and it's going to be a bit of a proven concept for us. We are drawing on best practices from Cable and Wireless and LIME in the region to make sure we have all that experience to help us get to where we need to get to real quickly."
BTC's retail transformation began with the Mall at Marathon opening last December. The Bay and George Street store is among the largest of the new renovations the company has undertaken in its retail rollout.
Mr Houston said: "We got the first store opened up before Christmas, then after Christmas there was a little bit of a lull for planning the next phase. Now we are just about ready to open up quite a few in succession, so we're really excited it's all happening now."