By DANA SMITH
dsmith@tribunemedia.net
PRIME Minister Hubert Ingraham was on hand yesterday for the official contract-signing ceremony for the construction of the Exuma Community Health Care Facility.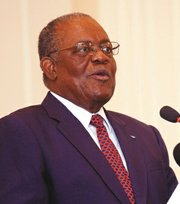 He called the signing a highlight of the "ongoing transformation" of the nation's health care system.
The community hospital will be constructed to the tune of nearly $14 million and is projected to be completed in 60 weeks.
The National Insurance Board (NIB) will be taking care of the tab and Mr Ingraham thanked them for their "extraordinary partnership" with the government, during his remarks.
According to NIB chairman Patrick Ward, their funding marks the 21st time the NIB has partnered with the Ministry of Health to back a community hospital.
Mr Ingraham said: "Through its medical benefits branch, the National Insurance Board has played an integral part in improving the delivery of health care throughout the country.
"To date, this commitment has translated into the construction and equipping of some 20 community health care facilities. These facilities provide essential medical services to Bahamian people in an affordable manner. Of note, the majority of these facilities are located in the Family Islands."
He said the development of community hospitals is "a critical part" of his administration's plan to develop Family Islands.
The new community hospital will be a single-storey, approximately 32,000-sq ft structure able to offer "full health care services," including an operating theatre, dental suite, laboratory and ambulance services, the Prime Minister said.
There also will be two auxiliary buildings housing a morgue and mechanical equipment.
"This hospital can be expected to serve the health care needs of Exuma for 20-plus years," Mr Ingraham said.
The new facility will be built by Reef Construction Company for $13,994,787 and was designed by architectural firm, Alvin K Rolle and Associates.
Also contracted yesterday were the refurbishment of the George Town dock and the reconstruction of the ferry bridge.