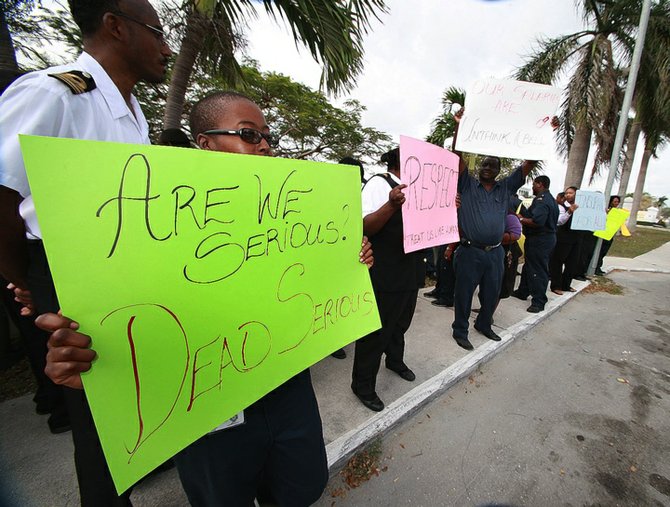 By SANCHESKA BROWN
Tribune Staff Reporter
sbrown@tribunemedia.com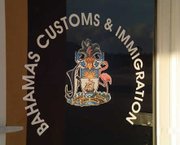 SEVERAL hundred Customs and Immigration Workers are on strike today after efforts to negotiate a new industrial contract with the government stalled once again.
This latest industrial action involves Customs and Immigration workers throughout the entire Bahamas including, New Providence, Grand Bahama, Exuma, Abaco and Bimini.
The strike has caused major delays at the Lynden Pindling International Airport and has completely shut down operations at Prince George Wharf, Arawak Cay, the Department of Immigration and the main Customs and Immigration offices on Thompson Boulevard and Hawkins Hill.
In January, after meeting with officials of the Trade Union Congress, Minister of Labour Dion Foulkes approved a strike vote for the Bahamas Customs and Immigration Allied Workers Union (BCIAWU).
The strike certificate gave the union the option to engage in industrial action should the government not live up to signed industrial agreements.
BCIAWU Vice President, Sloan Smith said customs and immigration workers are "tired of being taken advantage of by the government."
"The people just want what is due to them. The union and the government came together and sought to put an end to this ongoing dispute," he said.
"We met with the Prime Minister about a month ago and together we came up with certain positions that we both agreed on. When we got the contract, we realized that there were positions advanced in it contrary to what was said and agreed upon."
He continued: "As simple as proper rates for the staff, something we worked on for two years, was changed. When they sent the document with the adjustments we took it to our attorneys and then sent it back. We got no response.
"That was three weeks ago. Our attorneys advised us that they were attempting to contact Minister Foulkes to get some sort of conclusion, but he also did not respond."
Mr Foulkes was not available for comment up to press time.
Because the union has not heard from the government, said Mr Smith, workers decided to take action.
"We will shut everything down until the government takes us seriously," he said.
When asked how long the union intends to carry on with the strike Mr Smith said: "That is contingent on the government solving our issues."
He said they cannot trust the government to do anything in good faith and that they are not returning to work until they are heard.
The Tribune understands that two female employees from the Arawak Cay office have been arrested and are currently being held at the Arawak Cay police station.
Mr Smith said he was informed that they were arrested for obstruction.
The employees have barricaded the gates and the entrances to their respective offices.
According to Mr Smith, no one from the government has made any attempt to contact them.
Union members are upset with the shift system implemented by the government in January, as well as pay issues and reportedly unsafe and unhealthy working conditions.