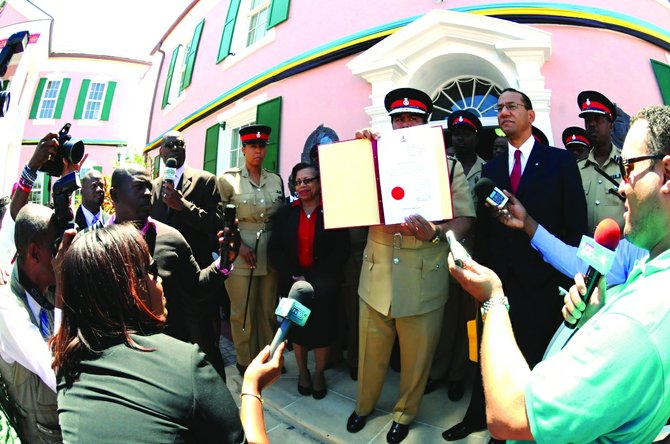 THE 2012 General Election will be on Monday, May 7, Prime Minister Hubert Ingraham announced Tuesday night.
Firing the starting gun on the election campaign, the Prime Minister called for elections that were clean, free, fair and honest.
Addressing the country on national television, the PM said: "I want to thank you for the privilege of serving you over many years in public life. I thank you for placing your trust in my leadership and that of my party. Now we look to the future and the next election. As we begin this process, I want to ask all of our citizens to commit themselves to an election that is truly fitting of this great democracy of ours.
"Whatever the outcome, this will be an historic election on many levels. As of today I announce that the Register of Voters is closed; this means that there will be no more registrations and no more transfers of registrations. With the closing of the Register, it is my privilege to tell you that there are some 172,000 registered voters in the Bahamas; this is 22,000 more registered voters than in the last election and the highest number of registered voters ever recorded in the Bahamas."
His address came after a day of high political drama. At 1pm yesterday, the PM announced he had asked the Governor General to dissolve Parliament.
Shortly after 1.45pm, Commissioner of Police Ellison Greenslade, in the role of the Provost Marshall, read the Proclamation from Governor General Sir Arthur Foulkes on the steps of the House of Assembly, dissolving Parliament on April 10 and setting the stage for the election.
Despite a media frenzy, no official election date was given. During the afternoon sources revealed to The Tribune's website www.tribune242.com a date of May 7. This was confirmed when the PM addressed the nation tonight.
It was also revealed the next sitting of the House of Assembly would be on May 23 - exactly five years from the first sitting of the current Parliament, and that candidates will have until noon on Tuesday, April 17, to be officially nominated by their respective parties.
It is thought that since 1977 no general election has been held on a Monday.