By NEIL HARTNELL
Tribune Business Editor
KERZNER International (Bahamas) managing director yesterday dismissed the surprise reemergence of a group that made a $3.4 billion offer in October 2010 to acquire the Atlantis and One & Only Ocean Club, telling Tribune Business the company had "never ever received an offer of merit".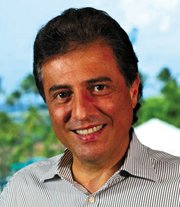 George Markantonis, who is also Kerzner International (Bahamas) president, was speaking after Tribune Business contacted him following receipt of an e-mail from the BMB Group, the Brunei-founded entity that in late 2010 went public with a purported $3.4 billion "all cash" offer to acquire the Atlantis owner and all its assets.
The e-mail, which describes the BMB Group as a Cayman Islands domiciled company with some $14 billion in assets under management, alleged that Sol Kerzner, Kerzner International's chairman, rejected their October 2010 offer on the grounds that "the group was worth more at the time".
And, attached to the e-mail, was a copy of a four-page 'offer letter' sent to Mr Kerzner and Sultan Ahmed Bin Sulayem, chairman of Dubai World and Istithmar, the latter a major Kerzner International shareholder, on October 11, 2010, detailing the BMB Group's bid.
When contacted by Tribune Business, Mr Markantonis said he did not know, and had never met, anyone associated with the BMB Group, implying that Kerzner International had never received any offer that Mr Kerzner and his Board of Directors believed was serious and merited attention.
"We have never, ever received a legitimate offer for Kerzner, even years ago," he told this newspaper. "I certainly don't know anything about any BMB Group. If it had any merit at the time, I think the company would have taken it seriously. But unless they have something that says it's from 2012, they're wasting everyone's time and fax paper."
Tribune Business was unable to reach anyone associated with BMB Group last night, despite e-mails being sent and voice mails left.
The e-mail, sent by one Waleed Mushrif, said tantalisingly: "I thought you would be interested, and possibly remember that the BMB Group made an official offer for Kerzner International one year ago, which was refused by Kerzner International.
"There was a high degree of press which centred around the offer letter for $3.4 billion. However, in the end Sol Kerzner felt the group was worth more at the time. It's also interesting to note that Kerzner International was in great financial problems a year ago, and continues today with the lenders fighting over its future."
Based on Mr Markantonis's comments, it appears there has been no recent contact between Kerzner International and the BMB Group, but it is possible the latter is 'setting the stage' to try and reach out to the Atlantis owner, and see if it is interested in reviving the $3.4 billion offer as a 'way out' from its ongoing debt issues.
That sum would certainly be enough to pay off Kerzner International's $2.5 billion debt owed to the lenders, and probably other liabilities as well, potentially leaving its shareholders with the ability to emerge with some equity earnings.
Kerzner International's lenders, led by Toronto-based Brookfield Asset Management, are still trying to hammer out the way forward, given that they are sitting on a loan that has been in default for eight months.
Brookfield abandoned a proposed debt-for-equity swap, where it would take over ownership of Kerzner International's Bahamian properties in return for forgiving $175 million of debt, in the face of opposition from other junior lenders. It has been trying to agree a revised debt-for-equity swap and fresh terms with its fellow lenders.
Asked about the status of these talks, Mr Markantonis said yesterday: "There's nothing that I know definitively. I'm hoping this thing will be finished soon, and I suspect it will be.
"I hate to speculate. This deal has changed format several times, and it's difficult to know how it's going to end up."