By NATARIO McKENZIE
Tribune Business Reporter
nmckenzie@tribunemedia.net
CUSTOMS brokers said yesterday that their operations had "slowed down" due to the ongoing strike action by the Bahamas Customs, Immigration and Allied Workers Union (BCIAWU).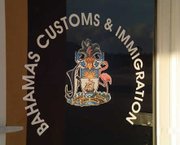 Alric Armbrister, manager at T&A Enterprises, told Tribune Business that while the strike had not resulted in any loss of business, operations had slowed down considerably.
Mr Armbrister told Tribune Business: "They still have officers performing their duties, although a lot of them have not shown up to work. What it has done is slow down the process. At the airport, for instance, you could have cleared your goods in half-an-hour to an hour. Right now, it's taking much longer than that."
He added: "It hasn't had a great impact as far as the brokers are concerned; there is nothing to really write home about. The process has just really been slowed down. Officers are still here, mostly management.
"It hasn't cost us any business; we are still able to submit our documents to Customs. It's just an inconvenience for our customers who may have wanted to get something today, only to find out that they cant get it until tomorrow."
One leading Customs broker executive told Tribune Business: "We have experienced some difficulties in our operations. Things have obviously slowed up, but there is a skeleton staff, so things are getting processed. It has impacted our operations but we have not stopped by any means. We are down but we are still operating and able to clear with skeleton crews in place."
The strike initiated by the Bahamas Customs, Immigration and Allied Workers Union (BCIAWU) last Thursday continues, with union vice-president, Sloane Smith, telling Tribune Business that the union's actions were not predicated on the Government's agenda. Mr Sloane gave no indication as to how long the union would continue with the strike.