By CELESTE NIXON
Tribune Staff Reporter
cnixon@tribunemedia.net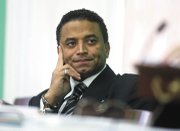 ONCE again calling on Prime Minister Hubert Ingraham to engage in a public debate, the DNA claims after 25 years in political life Mr Ingraham has become "intoxicated" with power.
Responding to the official start of the election race the Democratic National Alliance (DNA) released a statement criticizing Mr Ingraham for abusing his position and poisoning democracy by not informing the public of the election day sooner.
It said: "The PM has become poisoned by power and has in turn poisoned our democracy. The greater the power, the greater the abuse. And he has shown ability to abuse it without remorse.
"We are glad that he has finally felt the necessity to 'allow' people to participate in the democratic process, maybe now he will
understand the necessity of him participating in a public debate. Will his drunken disregard for public opinion lead him to continue denying Bahamians the right to make informed decisions."
After much anticipation, in a televised national address yesterday, Prime Minister Ingraham announced May 7 as the date for the 2012 General Election.
Ringing the election bell, the Prime Minister called for clean, free, fair and honest election.
"As we begin this process," he said, "I want to ask all of our citizens to commit themselves to an election that is truly fitting of this great democracy of ours.
"Whatever the outcome, this will be an historic election on many levels. As of today, I announce that the Register of Voters is closed; this means that there will be no more registrations and no more transfers of registrations."
During his address the Prime Minister announced there are 172,000 registered voters, 22,000 more than the last election and the highest number of registered voters ever recorded in The Bahamas.
At DNA headquarters yesterday, leader Branville McCartney reiterated the Prime Ministers call for a safe and fair election.
He said "I think all party leaders should ensure that persons do the right thing - we do have persons coming to watch this election, which I think is a good thing, and we do not want a stain on this country."
Asking both PLP party leader Perry Christie and Mr Ingraham to join him in a public debate, Mr McCartney said it is about showing Bahamians where you stand on the issues and not about winning.
"I think we are at stage in our democracy where it is warranted," he said, "I am asking them to come with us to the future and not be set in the ways of the past."
The DNA will be hosting a Town Hall Meeting on Good Governance at the Hilton today at 7pm. During the meeting Mr McCartney said the party will outline their policies on election reform, higher standards of governing and limiting the powers of the Prime Minister.
He added the DNA Code of Conduct will be signed by every candidate, as well as an early release of the party's 'Vision 2012 and Beyond' pamphlet,