By SANCHESKA BROWN
Tribune Staff Reporter
sbrown@tribunemedia.net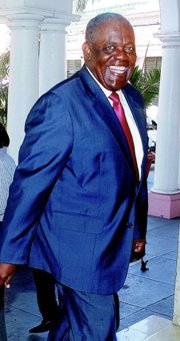 PRIME Minister Hubert Ingraham said yesterday he is "not concerned" with the persons who were unable to register to vote on Tuesday because "tardiness is something he does not have sympathy for".
While speaking at a luncheon with the 2012 Carifta team Mr Ingraham said he gave the Bahamian people enough time to register and it is not his fault many chose to wait until the last minute to do so.
"How many times did the Prime Minister of the Bahamas call upon people to register to vote? There has never been a longer process, a more organized process in the history of the Bahamas. For some people you are never going to be on time for them. No, I am not concerned about that at all. Everybody had more than ample opportunity to register. What you ought to do is compare the register of 2002 and 2007. See the difference in the numbers of people who were registered to vote in 2002 and those who were registered in 2007 and then ask yourself the question why?" he said.
"Maybe Mr Christie can answer that because he had a very disorganized event and lots of people didn't register. The 20,000 plus additional people we have registered now are not all new voters. Many of them are persons who didn't get registered the last time because they had no notice at all. There was no time that you can find that the PM or Mr Christie called upon the citizens night after night, week after week to register to vote. He just woke up one morning on a Thursday and you heard him announce the House was closed. This means that people who were not registered up to that day could not vote but this time we have extended it by one day. People had one day longer to register under the FNM than they had under the PLP because the PLP closed the register the Wednesday of Easter week. In our case it was closed on the Thursday of Easter week. So pay no attention to that nonsense about I could have registered and I didn't. Tardiness is not something I have sympathy for."
The Prime Minister's comments came after scores of people on Tuesday attempted to register for the May 7 elections but were told it was too late.
Mr Ingraham also said the government has made provisions for certain groups of people to be eligible to register before May 7.
"We have modernized and updated our laws, so for instance if you get married and wanted to go on your honeymoon you would be able to vote at a pre-poll and have your vote counted on election day. If somebody is on vacation, somebody is going to be hospitalized, somebody is pregnant and expects to have their baby in that period of time, somebody who is a candidate for a constituency in a family island, they and their spouses can vote early," he said.
"People who are going to work for other candidates off the island they can also vote early so one does not have to lose the right to vote simply because you are unable to be here on election day if you are registered to vote. Now you have to go through a process. You apply to the Parliamentary Commissioner and give good reasons and if he accepts it you go on the list and you'll be able to vote."
Mr Ingraham also brushed off criticism that he rushed the elections as "nonsense manufactured by the PLP."