By LESH
AMERICAN IDOL fans are still in a state of a shock due to the drama that unfolded during the elimination episode last week. Fan and judge favorite Jessica Sanchez found herself being voted off the show for receiving the lowest number of votes for the week.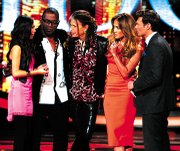 This revelation was upsetting to the crowed and the judges, Jennifer Lopez, Randy Jackson and Steven Tyler, seeing that Jennifer received great feedback every week, since the season started. Her talent and vocals proved her to be one of the best contestants on the show so far.
Some American Idol viewers may remember the 16 year old for her impressing renditions of Whitney Houston's "I Will Always Love You," and Beyonce's "Sweet Dreams."
When host Ryan Seacreast delivered the upsetting news to Jessica, even she, stood still in complete shock. Jessica was standing on stage being forced to sing for her chance to stay in the competition, hoping the judges would use their "save card."
Shortly after she began singing her "save me" song, Deborah Cox's "Nobody's Supposed to Be Here", all three judges left the judging panel to walk on the stage to personally "save" Jessica. Interrupting the young hopeful, Jennifer Lopez said: "Give me that mike. This is crazy. Yes we're using the save. You ain't going home, go sit down."
Using their one and only save for the entire season, Randy Jackson said: "We are saving Jessica, without any doubt."
The use of the judge's save was no surprise to those watching. American Idol viewer, Amarie Sands* told In Ya Ear: "That was crazy. I was screaming at my TV saying, this is not about to happen, but I knew this is where the save would come in and it did."
Another viewer, Sarah Moss* said: "This show just got real. I've been keeping up with the episodes and every week, over and over, Jessica received the highest of votes. I might be going out on a limb here, but she don't even need to be on that show anymore, she has proven herself one too many times that she has more talent than all of the contestants there. America is so crazy when it comes to pure talent, that is why they want her off I guess."
This week, there will be a slight change: the top 7 will sing two songs each and there may even be a double elimination. There will also be a performance by the American electro pop duo LMFAO, who will be performing their song, "Sorry For Party Rocking." Season 8 winner, Kris Allen, will also take the stage to sing his new single, "The Vision Of Love".
The Return of the Top 7:
Jessica Sanchez
Skylar Laine
Joshua Ledet
Colton Dixon
Elise Testone
Phillip Phillips
Hollie Cavanagh
Names have been changed*