By KHRISNA VIRGIL
kvirgil@tribunemedia.net
CITY Market employees are demanding to be told when their severance packages will be paid after a group of them were turned away from the company's main office.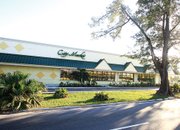 Reports reached The Tribune yesterday that the employees did not receive the money owed to them on Monday, despite being told they would.
The workers say they called the company's majority owner Mark Finlayson repeatedly, but were told he was not in office and that they would have to wait longer for their compensation.
Whanslaw Turnquest, a senior City Market employee who until a few weeks ago had been the mouthpiece for the 400 employees' concerns over the fate of their pension fund, was tightlipped on the matter.
He said: "I cannot comment on what took place because I was not there."
This comes after allegations surfaced that the company used millions from the pension fund to purchase its West Bay Street supermarket location, as well as equipment.
Mr Turnquest would only say there was "some confusion" on Monday after a meeting scheduled at 10am was rescheduled without notice for 9am that morning.
He said: "The meeting was maneuvered to an earlier time therefore causing the attorneys to miss the proceedings. Another meeting has been scheduled for Thursday at 10am with the Director of Labour at that ministry."
On Monday, Mr Finlayson confirmed that a deal to sell the supermarket chain's four remaining stores to Super Value had been finalised.
Super Value principle Rupert Roberts offered $33 million for City Markets when it was put up for sale by Winn-Dixie in 2006, but never came close to the $54 million winning bid submitted by BSL Holdings, the investor group whose ownership of just over four years proved disastrous, and led to the likely end of one of corporate Bahamas' most recognisable names.
Mr Finlayson previously told The Tribune he believes an investment of between $6-$10 million is required to turn the supermarket chain's remaining four New Providence stores around.
He and his partners have failed to turn the supermarket chain around despite investing $19 million to date.