By LAMECH JOHNSON
Tribune Staff Reporter
ljohnson@tribunemedia.net
ACCUSED drug lord Melvin Maycock Sr had his three year sentence upheld, but was fined an additional $250,000 by the appellate court after it dismissed his appeal to overrule a drug possession conviction for $1.2 million worth of marijuana.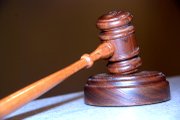 Maycock Sr now either pays the Crown a quarter of a million dollars or faces an additional two years in prison if the payment is not made.
Yesterday, appellate court president Justice Anita Allen documented her ruling on why she, with Justices Christopher Blackman and Stanley John, decided to vary the original punishment given by drug court Magistrate Carolita Bethell.
"In the present case, while I believe the sentence of imprisonment was appropriate in the light of the two years the appellant spent in detention awaiting trial, I would vary the sentence by adding a fine of $250,000 or in default of payment, two years imprisonment to give due weight to the aggravating circumstances noted."
In November last year, Deputy Chief Magistrate Bethell convicted the accused drug lord of possession of 1,200 pounds of marijuana worth more than $1 million, three firearms and assorted ammunition seized by police May 17, 2008. She sentenced him to three years in prison, having taken into consideration that he had already spent two years in prison on remand.
His attorneys immediately appealed the ruling and brought the matter to the Court of Appeal.
After being denied bail pending the outcome of appeal, attorneys Wayne Munroe and Jomo Campbell argued, in February's substantive hearing, that the conviction could not be supported when examining the evidence.
They said the case against their client was circumstantial and stemmed from police intelligence, which led police officers to a home in Cable Beach.
According to evidence, police found Maycock's bible, a rolex watch box guarantee from 2001 and a vacuum sealer machine that had Maycock's right index fingerprint.
Mr Munroe had argued that the machine was portable and no one could say when it was put in the apartment.
He also noted that the passport of acquitted co-accused Kerrington Knowles was in the building.
He further noted that the building had been leased to Knowles' sister.
Prosecutor Eucal Bonaby countered that there was sufficient evidence to infer that the machine, bearing Maycock's print, had been used to package drugs.
However, he admitted that minus the print, there was no evidence connecting Maycock Sr to any of the charges.
In their decision, the judges dismissed the submissions of Maycock's lawyers. They said they had no issue with the magistrate's conviction.
However, they felt the sentence was not enough in the circumstances and varied it by adding the fine to reflect the amount and worth of the confiscated drugs.