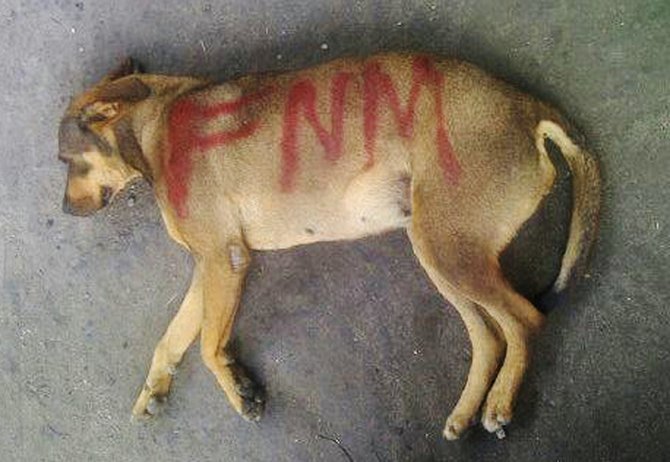 BY SANCHESKA BROWN
Tribune Staff Reporter
sbrown@tribunemedia.net
HUNDREDS of angry Bahamians vented on social media networks yesterday, after a photo of a dog spray painted with letters "FNM" went viral.
The Tribune posted the picture on both its Facebook and website around 10am. It was almost immediately shared by more than 20 people on their personal pages and received more than 30 comments.
One woman said: "Sometimes I want to scream! Here is an innocent animal that can cry and feel pain, knows joy and love and then some complete moron comes along and treats the animal in an inhumane way.
"I would like to take that same can of paint and spray the person who did this with the word INHUMANE PERSON across their chest. Some of us Bahamians are really, really stupid. Lord give me strength not to curse!"
Another said: "Just looking at this picture brings tears to my eyes.
"I know this dog didn't just stand or lay down for the spray painting to be done even this 'dumb' creature has value.
"This speaks volumes of the level of intelligence in our country. I'm ashamed. The person who did this shouldn't have the right to vote, clearly they are not of sound mind."
A few hours after the picture surfaced The Tribune learned a concerned citizen, who wished to remain anonymous, took the dog and washed the graffiti off.
She denied reports that the animal was beaten and tortured and scolded members of the public for being irresponsible with comments without first gathering the facts.
"There were two dogs, not one," she said. "I think we animal people need to be a little more careful and check our facts before we go on Facebook causing a stir and insulting people, especially when the people we target actually love and take care of their animals.
"Yes, it was foolish to spray paint FNM on those two dogs on Mackey Street but no one was trying to stone them to death," she said.
"They didn't have any signs of injury or trauma and were at home with their owners when found. The owners were more than willing to wash the paint off themselves and have now learned why what they did was silly and potentially dangerous. It was a matter of ignorance, not cruelty - and ignorance can be cured with a little education, not necessarily a policeman."
Stephen Turnquest, executive director at the Humane Society, said in a statement yesterday that there is enough animal neglect, abuse and cruelty going on in this country without this kind of ignorance adding to it.
"This is a prime example of ignorance that can cause a healthy animal unnecessary suffering at the hands of uncaring people," he said.
"The Bahamas Humane Society is advising the public to refrain from such silly acts like painting political gestures on animals because it puts the animal at risk of being abused.
"Fortunately this dog was found and cleaned up, others might not be so lucky."