By LESH
A POPULAR American Idol contestant was eliminated from the show last week, sparking more outcry about the show's "failure to recognise talent".
The "shocking" elimination comes one week after judges used their "save card" to keep contestant Jessica Sanchez on the show. Idol hopeful Colton Dixon had no such luck. He was voted off the show.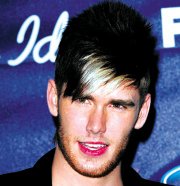 Colton found himself in the bottom three, along with contestants Hollie Cavanagh and Elise Testone. Colton's final performance was Lady Gaga's hit "Bad Romance".
Even though judges Jennifer Lopez, Randy Jackson and Steven Tyler appeared to be disturbed by the Colton's low scoring, they were powerless to help him.
According to the Huffington Post, Colton appeared on "Good Day LA" to speak about his elimination, including what he called a poor song choice.
Quoting former idol contestant, the website stated: "I think song choice killed me this week. Nothing against Lady Gaga and 'Bad Romance," he said. "I agree with (the judges). I should have thought of that when choosing songs, and it was my bad. I paid the consequences and here I am," he said regretfully.
In an interview with In Ya Ear, American Idol viewer, Jan Smith* said: "It was shocking because I actually thought he had a fair chance of winning this thing. I don't even know what to say because the week before, it was Jessica, and last week, it was Colton. I am beginning to think this is all for ratings of the show and not the pure talent."
Another viewer, Francine Lightbourne* said: "I said it before and I will say it again, just like when the fans voted Jennifer Hudson off the show before having a chance to win, America is failing at recognising talent. For every time, one of the talented singer's chances often get cut to a minimum on this show and that is just sad. Hopefully a few producers out there got a chance to see Colton for his true talent and sign him."
The contestants that remain will take the stage this week to perform two songs each. One of the songs will be a selection from the British rock band, Queen. The other song will be a selection of their choice. The members of the Queen band will be joining the contestants on Thursday's elimination show to perform a group medley.
American singer/song writer Katy Perry will take the idol stage to perform her new single, " Part Of Me."
Top 6 Contestants:
Joshua Ledet
Jessica Sanchez
Phillip Phillips
Hollie Cavanagh
Skylar Laine
Elise Testone
Names have been changed*