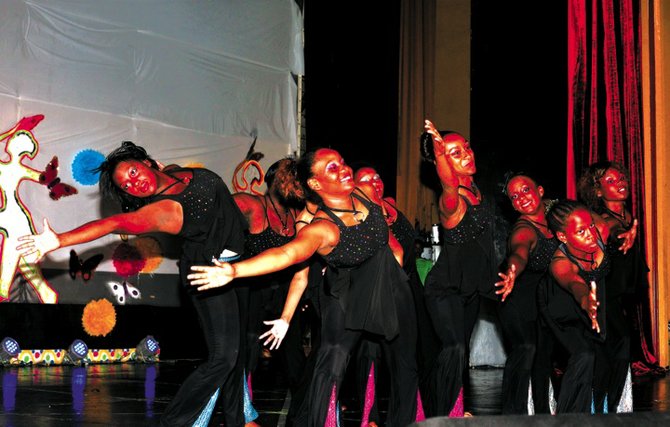 By ALESHA CADET
Tribune Features Reporter
IN A tribute to women, the National Dance School of the Bahamas celebrated its 35th anniversary with rhythm and cheer. The dance and drum concert drew a full house at the National Center for the Performing Arts, last Thursday.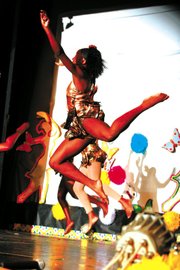 Over three nights, the weekend production covered all aspects of a womanhood. Giovanni Wilkinson, principle instructor of the National Dance School, said the show speaks about the dynamics of the feminine from the perspective of mothers, daughters and sisters.
"The theme came up on a brainstorm. One of the other instructors had lost her mother and between her and I, we just came up with the idea of a way to honor women. In the production, it shows the tension that women may have. It shows the dislikes that women have when they feel like they are slightly threatened, it covered all of that," said Mr Wilkinson.
Established in the 70s, the National Dance School trains Bahamian dancers and teachers of dance. The school is committed to researching the roots, development and current manifestations of dance forms indigenous to the Bahamas both in New Providence and the Family Islands.
According to members of the school, through the years it has been successful and many dancers, dance teachers and artists have been afforded the opportunity to go abroad to perform, attain education and become instructors in Bahamian schools.
Through movement and sound, the dancers performed ensembles such as "What is a woman", and "Look But Don't Touch", a ballet dance. Dressed in black flowing thigh high dresses, the ladies moved to the beat of an African-like rhythm.
"The choreography all derived from an African dance style, but it also featured different modern dance moves. The piece is originally about being in a nightclub and each of the dancers show their different styles. It was like, we may start together, but it is all about me. You have to watch me, not her. It was like an arrogant and very self aware dance style, letting every one know how good you are," said Mr Wilkinson, who also served as a choreographer.
The ballet segment "Footprints" demonstrated female support and friendship. Mr Wilkinson said the way the girls lifted each other as they danced and held hands, showed how they all had each other's back. The performance "I Was Here" showed how powerful woman can be and the marks they leave.
"I wanna leave my footprints on the sands of time, know there was something that, and something that I left behind. When I leave this world, I'll leave no regrets. Leave something to remember, so they won't forget," stated the song for "I Was Here".
The show was the first for Mr Wilkinson as the principal instructor. In the future, he hopes to take the school to an international level.