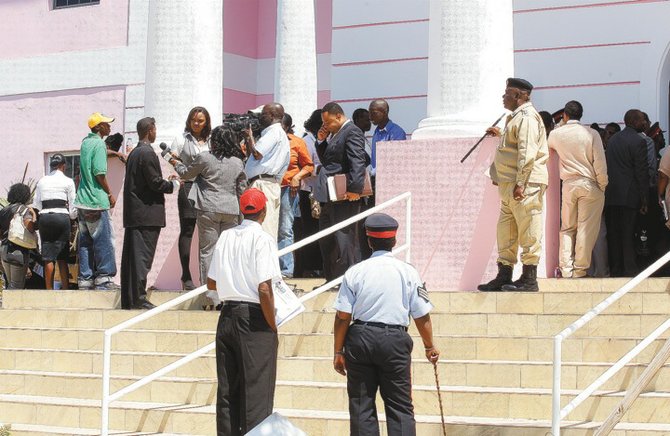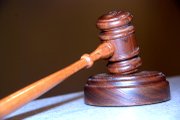 By LAMECH JOHNSON
Tribune Staff Reporter
ljohnson@tribunemedia.net
A POWER disruption at the new Magistrates Court complex yesterday morning forced an hour delay in a number of cases and adjournments in others.
Scores of persons were lined up at the entrance and on the steps of the Nassau Street Complex while a similar number filled the side of South Street waiting for the generator to kick in.
It did not, as according to Supt Oscar Sands in addressing the press there was a "little glitch" in locating the keys to the generator of the multi-million dollar state of the art complex.
"What happened this morning, an hour ago, current went off. It's unfortunate the backup generator didn't kick in. However, the respective persons were contacted."
Supt Sands then referred to the situation with the "keys".
"Before that could happen, like you see there was a delay and the current came back on before we could get that glitch fixed."
The officer in charge of the complex said the Magistrates would see persons with cases and determine whether or not they would be able to proceed or have to adjourn. When The Tribune arrived on the scene shortly before 11am, there was no light in the building save for the glowing exit signs. There were reports that the power had been out as many as two hours.
A number of attorneys and persons with pending cases found yesterday's event to be an incovenience, however the former were more vocal.
Dr Glendon Rolle, an attorney at Anthony Thompson and Co, shared his thoughts on the outage and how it affected his clients and ultimately the legal system.
"The outage today has immensely affected the judicial system in a fact that this is a newly built court, millions of dollars have been spent and as a result of that, we don't even have the basic necessities which is light to carry on."
"Persons are being brought before these courts to justify their innocence and here it is it cannot be conducted because of the lack of electricity which is sad in 2012."
Dr Rolle called on Bahamians to stand in solidarity against these incoveniences and demand better from the government, which he blames for the outage. As for his clients, he said he was appearing for seven matters and was being paid by his clients to appear even though they were likely to be adjourned because of the outage, which will put a strain on their pockets. "They have lives to continue, families they must get back to. They have jobs that will be put at risk due to repeated adjournments because of incidents like these."
Bernard Ferguson, also an attorney, was less critical about the incovenience. "Sometimes things in life happen, it's not a perfect world."
"Court is supposed to start at 10 o'clock as usual. I had two matters I need to deal with and it is now about 11.35 and it has not started. But it seems as though power has been restored and hopefully things will go smoothly through the rest of the day."