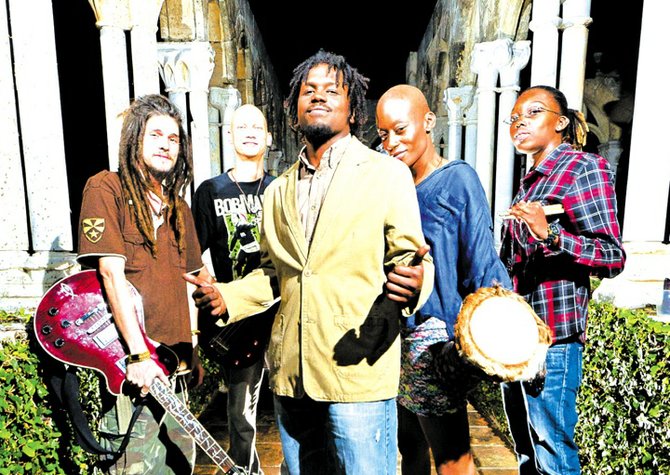 By JEFFARAH GIBSON
Tribune Features Writer
THE TRUTH band gained its national spotlight after performing in the Global Battle of the Bands competition last month. For months, however, patrons at Hammerheads bar have enjoyed a regular dose of reggae, rock, and alternative music from the young band.
Since they made their mark in the biggest competitions of their career, the band is ready to take on new ventures and introduce their sound to an even wider audience.
Plans for the band to take a trip to Amsterdam are in the works, said Bill Burlingame, band leader and guitarist.
"People have been advising us and telling us that this would be a good place to attract a wider audience. Nothing is concrete yet but we are seeking to plan a trip to Amsterdam in December," said Bill.
In Amsterdam, the band plans to perform at different venues, introducing music enthusiasts in the country to their diverse style. The group is also hoping to snag more gigs locally.
"We have had several people express an interest in working with us. We have a regular spot now but we are looking to get more gigs," said Bill.
The band has been on the music scene locally for just six months, although it was formed one year ago. Mr Burlingame told In Ya Ear that few people were familiar with their sound and have mistaken them for a rock band.
"We do have an international sound because the band has roots in rock music. We are a fusion band. We play many genres including, rock, reggae, and alternative. People thought we just played rock music and are surprised to hear how diverse we are," he said.
So far, the group has attracted a loyal following. By constantly perfecting its sound, and making music that is relevant to the taste of listeners, the band hopes to stand out in the midst of other bands in the Bahamas.
"It was challenging at first because people were not familiar with us or our music. As our music got better people have become more receptive to us. We have grown quickly and we have gotten positive feedback from people. We will be making even better music in the future and giving them something good to look forward to," said Bill.
The five band members include lead vocalist Judah Seymour, drummer Racquelle Cooper, guitarist Bill Burlingame, percussionist Zee Thompson, and bass guitarist Ashley Algreen. They seek to send positive messages of hope to their listeners.
Currently The Truth is working on releasing several singles. Listeners can log on to ITunes, Reverbnation, or Facebook to listen to their music.