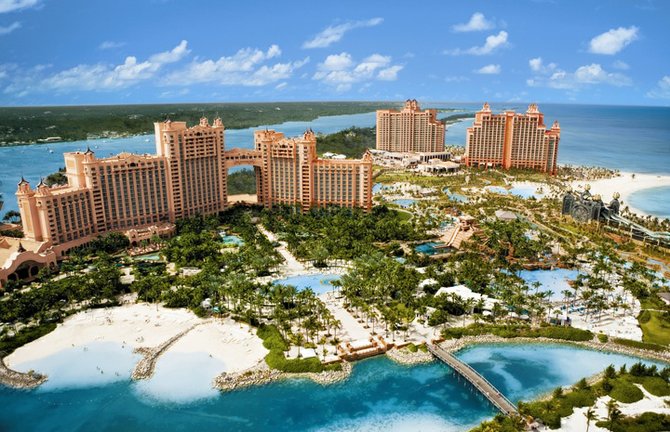 By DANA SMITH
dsmith@tribunemedia.net
BROOKFIELD has officially taken over ownership of Atlantis with a "seamless deal" that will see no job losses and no impact on the Bahamas' economy.
Tourism Minister Vincent Vanderpool-Wallace and Kerzner International President George Markantonis spoke about the deal yesterday at Atlantis' Coral Towers and explained there will be "absolutely" no obvious changes to the hotel.
"The saga that's been going on with our debt restructuring is over and we are now moving forward," Mr Markantonis said. "Brookfield are the new owners of the real estate for these properties. Kerzner International continues as the management team."
There were three "key factors" to the government's approval of the deal, he explained, all of which Brookfield had no problem agreeing to.
One, there will be no loss of jobs as a result of the transaction; second, annual capital expenditures will continue to be in the same range as they have been in the past five years – around $50 million; and third, Atlantis will continue to market and advertise their properties as they have done in the past or at least to the same "intense level."
"We are delighted on the property because even though we are focused on our business this has been a little bit of a distraction and now we can totally focus on what our core responsibilities are – taking care of our customers," Mr Markantonis said.
"The criteria are very reasonable. They have been built around what are performance hurdles have been in the past. They're not something new or unusual... I'm very comfortable, as my management team is, that we can achieve them."
He added: "We're looking to the future now."
Mr Vanderpool-Wallace told the press "all the substantial stuff is done" in terms of ownership switch to Brookfield and the government "feels very comfortable" about the new deal.
"They (the criteria) were agreed to (by Brookfield) quite readily and quite easily upfront," he said.
"When we sat around and talked about what is it that we should include in this deal. It is a wonderful thing for the owners to come back and say: 'Yes, yes, yes.' As opposed to any strong negotiating going back and forth.
"They were quite forthcoming and quite welcoming for these kinds of conditions which we believe is very, very important for the economy of The Bahamas."
Mr Markantonis added: "It's a great indication of their sincerity that they have agreed to the criteria presented by the government.
"We, as a management team, have met with our Brookfield representatives numerous times over the last 19 months and we've only been impressed with the professionalism, the desire to succeed here, and the concern for all of the employees who work here. It's just really been amazing. I really mean it when I say I only see better things ahead.
"I might sound a bit boring, but you can actually expect no changes. It's business as usual."
In a statement released by Kerzner International, yesterday, the company announced it had "concluded its comprehensive restructuring to improve its capital structure and position it for sustainable, long- term growth as a global management company.
"As part of the transaction, Brookfield Fund has exchanged approximately $175 million of debt for Kerzner's equity interests in the Bahamian companies. Kerzner will continue to manage Atlantis Paradise Island and One & Only Ocean Club."
"We are pleased to have reached a successful conclusion to our comprehensive restructuring, which significantly strengthens the Company's financial profile," Kerzner International Chairman, Sol Kerzner, said.
"With substantially less debt and a more flexible operating structure, Kerzner is well positioned for sustainable long-term growth as a global management company."