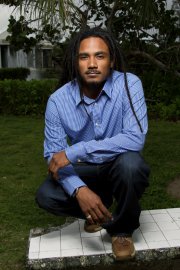 By ALESHA CADET
Tribune Features Reporter
acadet@tribunemedia.net
LOCAL Bahamian musician Irate said he wants to be known more for the positive message his songs bring than for fame and fortune.
Describing himself as a "soul musician", Irate said it is his dream to be recognized both locally and internationally.
He said his most recent song is a cover to Adele's "Someone like You". His supporters can feel free to check it out on his Irate 242 Youtube Channel.
To date, Irate has been working on putting together a personal studio for his brand new label Rising Sun Records.
"The purpose of this studio and label will be to help other artists who are interested in music but don't have the funds or means to get it done. I want to help other artists fulfil their ambitions if they have the genuine talent and drive because I know how hard it was. So any artists out there who needs a helping hand, just link me and let's see what you got," said Irate.  
Irate said he is also set to release a new reggae rhythm called the "Stand Tall Riddim" featuring a number of local artists, including himself.
Irate said he did a lot of reggae music in his time, but he would not limit his talent to being just a reggae artist. He said his style is more of an acoustic one.
"I write a lot of music that is not reggae but in all types of music that I do, one thing remains constant, and that is spreading a positive message to the listener," he said.
Irate's musical journey first began upon him graduating from high school. He said his friends around that time were interested in rapping and playing the guitar. This is what sparked his interest in playing musical instruments, he said.
"I bought a guitar and taught myself how to play and that's how it all started. I would also say my inspiration comes from God because music was never something I did in school or grew up doing. After high school I decided to seek a more conscious and positive lifestyle and on this journey God put this talent in me and the ability to write songs and play music," said Irate.
Irate said he took it upon himself to write his own songs and also produce music for his singles. He said his most popular song would have to be his single "I Believe". The music video for this particular song made it as far as Tempo, the international TV music network.
"I have done a lot of songs so it's hard to really put a number on it but it has definitely surpassed 20 or more songs. It's so hard to pick a favourite because whenever I write a song, I put my all into it, from the lyrics to the music," said Irate.
Just two weeks ago, Irate had the opportunity to perform at an annual event called "Celebration of Love", which was held on George Brown Park in Bain and Grants Town. He said the purpose of the event was to spread hope and love in the community.
He said over the years, he has had the chance to work with music artists such as Jah Hem, Sketch, Savage Bull, Jah Nyne, Peter Runks, Nita, Ancient Man, T' rez Hepburn and Elon Moxey.
Irate said he would love to sing and do music full time, but unfortunately it "doesn't always pay the bills."
"It definitely isn't easy trying to balance music and day to day living, but when you have a genuine love for something, you find time for it. Without music in my life it would not be a life worth living, that's how much music plays a part in my life," he said.
Currently working on an album, Irate said he looking forward to a release within the next few months.
"The name of it is "Soul Music" comprising of fourteen original songs. This will be my first official album so I am definitely excited about it," he said.