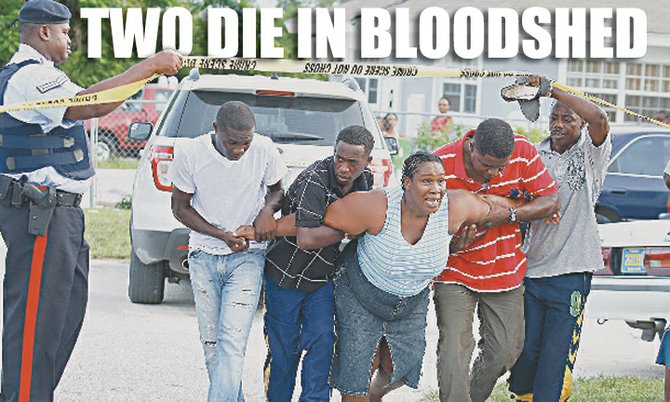 By DANA SMITH
Tribune Staff Reporter
dsmith@tribunemedia.net
  A WEEKEND of violence brought the country's murder count up by two as a stabbing at the Cat Island Regatta and an armed robbery in the capital ended in death.
Late Saturday afternoon on Zirconia Court, 33-year-old Neremy Noel was shot in the back and killed after he and another man were robbed of their cellphones and a laptop by two men armed with a handgun.
Neighbours of the Garden Hills area – off Prince Charles Drive – gathered in the street and looked on as police investigated the incident but were reluctant to speak to the press on what they might have seen or heard.
However, a young child who saw the incident told The Tribune the culprits held a gun to the head of Mr Noel's companion as they robbed both men, allegedly prompting Mr Noel to push the suspect's hand aside before the suspects fled, one of them firing the shot that killed Mr Noel.
The victim's brother, 35-year-old Moicel Noel, said he was sorry about his brother's death. He said he will remember him as a "kind" man.
Supt Robert Sherman-Young, Commander of the Eastern Division, spoke to the press at the scene and recounted the incident.
"At about 4.50pm two men came from the bushes at the end of the road here and approached two persons," he said. "They robbed one of them of his laptop and cellphone and the other person was robbed of his cellphone – he put up a struggle, as a result of which, he was shot in the back. He succumbed to his injuries."
According to police reports, after robbing the pair, the culprits fled back into the bushes, which leads to Sandilands Village Road, firing gunshots as they went, resulting in Mr Noel being struck and killed.
A young boy on the scene, cousin to the robbery victim, said he was on his way to sit next to his cousin and Mr Noel before the culprits showed up, armed.
He described how one suspect held a gun to his cousin's head before Mr Noel pushed the suspect's hand aside.
"(The suspect) took the gun and put it by my cousin's head, so my cousin gave him the laptop," he said.
"Then the other man, they dug in his pocket (Mr Noel's) and then he pushed the other man's hand. Then I saw them run in the bush and then they shot him in his back."
Before the child could go any further with his account, however, his parents called him away from the press.
The victim's brother, Moicel Noel was noticeably upset as he spoke to police investigators on the scene. When asked to describe how he remembers his brother, he told the press it would take hours to recount the type of person his brother was.
"If I'm explaining what type of person he is, it'll take all evening. Since me and him grow, I can't say nothing bad about him," Mr Noel said. "He's a very kind person, a very nice one. The only thing I can say is, I'm sorry he's dead."
He said that his brother came from a large family and he's unsure how they will all move on after his death.
"We have to sit down with a little meeting and then we can know how we can, together," he said.
Police said yesterday, a 17-year-old juvenile of Sandilands Village Road is assisting police with their investigations into Mr Noel's death.
Also on Sunday, an early morning argument at Regatta Park, Cat Island led to a 22-year-old Harbour Island man's death.
According to reports, shortly after 2am the victim got into an argument with another man and was subsequently stabbed in his abdomen.
He was immediately taken to the Smith's Bay Clinic where he later died of his injuries.
A 25-year-old man of Bain's Town, Cat Island was also injured in the argument, after being struck in his head with a bottle, and was taken to a local clinic before being airlifted to the capital where his condition is unknown.
Active police investigations into both matters, continue.
Two non-fatal shootings also occurred over the weekend, one of which left a 68-year-old Grand Bahama man in hospital after he refused to give a masked man, money.
Shortly before 1am on Sunday, police responded to the Garden Villas area in Freeport after receiving reports of gunshots being heard.
The 68-year-old victim of South Bahamia was in the parking lot of his apartment complex on Weddell Avenue when he was approached by a dark man wearing a mask and armed with a handgun, demanding cash.
When the victim refused to give him money, the gunman shot the victim several times in his body before escaping.
The victim was taken to a local hospital by private vehicle where he is detained in stable condition.
Police are appealing to persons who were in the area when the incident occurred to call 350-3107/8; 352-9774/5; or 911 with information.
The second shooting occurred Saturday evening in the capital sending a 22-year-old man to hospital.
Police say they are uncertain of the circumstances surrounding the incident, but the man of Cowpen Road was at Washington Street off Balfour Avenue around 7pm when he was shot in his leg.
He was taken to hospital by a private vehicle where he is detained in stable condition.
Investigations into the matter continue.