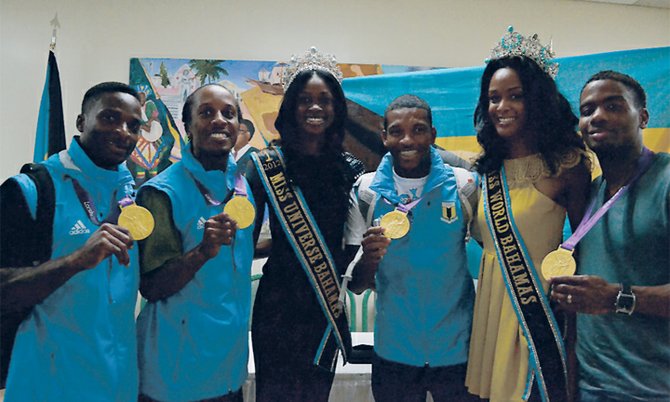 EXCLUSIVE
By SANCHESKA BROWN
Tribune Staff Reporter
sbrown@tribunemedia.net
FAMILY, friends and supporters waited, and waited... and finally got to see their heroes arrive last night.
The plane carrying the Fantastic Four - who claimed gold in the Olympics 4x400m relay race on Friday - arrived at 11.36pm to an outburst of cheers.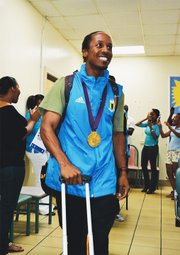 Prime Minister Perry Christie was among those to welcome the team, who he said had "inspired a nation".
The athletes were originally scheduled to arrive in the capital at 6.30pm but their journey home was hit by a series of delays.
Members of the delegation arrived earlier, leaving most of the crowd waiting to catch a glimpse of the Golden Boys - Ramon Miller, Demetrius Pinder, Chris Brown and Michael Mathieu.
One of those waiting was the mother of Ramon Miller. Adorned in a T-Shirt bearing the images of the winners of the 4 x 4 relay team, she said: "I'm overwhelmed, I'm elated, I'm excited. Words can not describe the way I am feeling about the historical moment, the golden moment If you want to call it that. I am very happy to know that he is a part of history that is indelible and one that cannot be erased, one that will be there forever," she said.
"Ramon was a bit laid back when I spoke to him - he was like 'Mommy, how am I going to deal with all the press, and the prestige and accolades', so he is trying to muster himself in terms of how to deal with the public in this grand moment."
Vice-President of the Olympic Association Mike Sands said he was extremely proud of the accomplishments of the entire Olympic team. He said their greatest accomplishment was the ability to bring Bahamians together even if just for a moment.
"The men's 4x400m team galvanised this nation. For a moment, we were one country. We need to take from this and heal ourselves," he said,
"They did something awesome. We need to take a page out of that book and come together as a country. We need to see if we can maintain that spirit and camaraderie and heal ourselves."
The celebrations will continue all week, including a victory parade on Saturday.
Events will include a reception and lunch with the Prime Minister.
The nation is still buzzing after Friday night's dramatic events at the Olympic Stadium in London.
It marked the first Olympic gold medal in a men's event in any sport for The Bahamas and the first American loss in that race at the Olympics since 1972. Sir Durward Knowles and Cecil Cooke won a gold medal in 1964 for sailing, which is not categorised as a men's event.
The Bahamas Relay team won in 2 minutes, 56.72 seconds, a national record time, ahead of the US, which came second and Trinidad & Tobago, which finished third.