By RENALDO DORSETT
Sports Reporter
rdorsett@tribunemedia.net
DUE to delays forcing late night schedule changes yesterday, Team Bahamas will have to wait on the welcome it deserves after their performance at the Summer Olympics in London.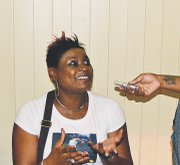 Originally scheduled for a 6pm Monday return home to a sea of supporters at the Lynden Pindling International Airport, Team Bahamas experienced a series of delays with connecting flights and returned to the capital near midnight to very little fanfare.
"Flight schedules changed as a result of the performances and we wanted to get everyone here to celebrate the historic occasion of the gold medal, therefore some schedules were changed to accommodate that. The team was originally split between Virgin Airways and British Airways out of London. We had some delays in Miami and those of us that were on British Airways came through on time. We tried as best as we can to stall the flight and to have them connect with us, unfortunately the time did not permit it," said BAAA president Mike Sands. "Unlike Bahamasair who would have waited for our national heroes, the other airlines were not as accommodating. Bahamasair decided they would take up the slack and bring the team from Miami on the final leg of the journey home, however those flights were delayed as well."
For now, the Bahamian public will await to see what plans are in place to properly greet the 26-member team and most notably the gold medal winning quartet of Chris Brown, Demetrius Pinder, Michael Mathieu and Ramon Miller.
Despite the delayed celebration, the family of Ramon Miller, whose anchor leg will go down in Bahamian folklore as one of the greatest athletic performances of all time, came out in a strength of support for the two time Olympians.
Dressed in customised T-Shirts celebrating Miller and the team's achievement, his mother Clarice Miller said that both she and her son are still in awe over what transpired.
"I'm overwhelmed, I'm elated, I'm excited. Words cannot describe the way I feel about the 'golden moment' if you want to call it that. I am a proud mom. Very happy to know that he is a part of history, that is indelible, one that will not be erased and one that will be there forever," she said.
"'Mon' is a bit laid back and he has said to me 'mummy how am I going to deal with all this prestige and accolades or whatever' so he is trying to muster himself in terms of how to deal with the public and this grand moment."
Wellington Miller, president of the Bahamas Olympic Committee, said the Bahamas has much to be proud of for the team's performance, not just for the medal winning members of the 4x400m relay team, but all of team Bahamas.
"Besides these gentlemen we had many good performances from our athletes. Back home we know everybody was anxious wondering when the Bahamas would clear its throat and finally make that roar toward the finish line. Friday that happened. That went all over the world. It was huge to us because we beat the Americans who had not lost that race in decades. Our little country, the Bahamas, took charge. When I saw Ramon Miller pass Taylor about 25 yards from the line, it was a great moment for us all. None of us saw the actual ending of the race, the celebration was on and we went temporarily blind for a second but it was such a great great feeling to see young men who you knew coming up perform on that stage," he said. "They did it for all of us, they did it for the pride of the Bahamas. The next day we had another great moment when the Bahamas got to hear its national anthem on that stage and we saw the Bahamas' flag fly high over the American flag and the Trinidadian flag. This success will continue on with our feeder programmes. The team performed well and did many things that the entire Bahamas has to be proud of."