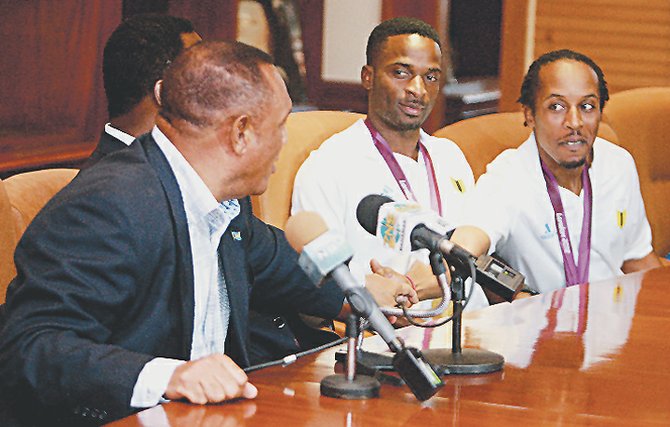 By RENALDO DORSETT
Sports Reporter
rdorsett@tribunemedia.net
The Bahamas will have an opportunity to celebrate its stars of the 30th Olympiad for the remainder of the week, with several days of events to commemorate the team's performance in London.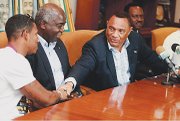 The schedule has been released for the festivities in honour of Team Bahamas and, in particular, the gold medal winning men's 4x400m relay team, who paid a courtesy call on Prime Minister Perry Christie yesterday.
At noon today, the team is expected to attend a sitting of the House of Assembly.
And 11am Thursday, they are scheduled to pay a courtesy call on the Governor General at Government House, followed by a luncheon with the Prime Minister at 1pm.
On Friday, BTC, the primary sponsors of Team Bahamas, is expected to host a major event during the day followed by an evening of "Goombay Summer" hosted on Bay Street.
Details of both events will be released during the course of the week.
Saturday will include an island-wide motorcade, culminating with a concert at Clifford Park, starting at 7pm.
Prime Minister Christie said the exploits of the team extends much further than the week-long celebration as they serve as an inspiration to future generations of Bahamians.
"The honour that is due to this particular quartet is seen to be understood by all Bahamians. The entire Bahamas, having gone through the disappointments leading up to the relay became totally fixated on the race itself. The entire nation was lifted by the achievement," Mr Christie said. "When we look at you, and we see what you have done and we think of the 'Golden Girls' and how their awe inspiring achievement stimulated track and field, stimulated sports. Lots of young people with talent decided 'I am going to be like them.' Well similarly today in the Bahamas you have demonstrated to thousands of young Bahamians that it can happen for them."
Chris Brown, the elder statesman of the team, won his third Olympic medal in the 4x400m relay and competed in his fourth edition of the Olympic Games.
Brown, 33, said it was an honour to compete alongside a group of young quartermilers who performed exceptionally on the world's biggest stage.
"It's a great feeling. Through the grace of God, he has allowed me to have a great career and to watch younger quartermilers come up. It shows that the work that I am doing is paying off," he said. "To see these guys go out there and fight for what they wanted, it shows a lot of discipline and character. It makes me feel good knowing that if I was to leave the sport anytime soon, these guys would be able to hold their own. I just tell them that leadership reflects results. If they want to continue to see success they have to continue to keep that good leadership role and continue to stay as positive role models. Keep God first and everything else will fall into place."
At 23, Demetrius Pinder was the youngest member of the team, but finished with the fastest split in the final and reached the open 400m final in his Olympic debut.
"It is an honour just to make it to the finals in any event. I had been to finals many times before on the NCAA circuit but to make it at this major stage, the Olympic Games, it was something special to me and I'm just happy that I was able to perform, go out there and do my best. It takes hard work, preparation and dedication to reach this level and to have it pay off with a gold medal in my first Olympics was amazing," Pinder said. "Being there everyone has to be their own leader but in 2016, I'll be ready to step in and take on that role."
Michael Mathieu said that depite his false start disqualification in the 200m, he focused on being a sucessful part of the 4x400m relay team, and for the second time fulfilling an Olympic dream.
" I didn't feel any pressure, but after the 200m, I had to put that behind me," he said. " But I knew I needed to come back and do what I had to do in the 4x400m relay," he said. "If you dream about it the best thing to do is to go after it, because for me it was definitely a dream come true."
The now legendary anchor leg run by Ramon Miller earned him his second Olympic medal after being an alternate in Beijing in 2008. He credited his Olympic debut in 2008 as the motivation to become a member of the regular rotation and run in the final in 2012.
"It was all hard work and being hungry, seeing Chris and the other guys represent us in the 400m, it made me want to go out there," he said. "From that year, I really started to train hard, started to take track to the next level, dieting, working harder and doing all the little stuff, not knowing that I would have been the anchor leg this year. The guys had faith in me, to put me on there, and I was ready enough and I was able to go out there and do it. I wasn't feeling any additional weight on the anchor leg because I am always ready to run any leg. Knowing that the guys had faith in me, I was ready to go and give it all that I had."
Said Minister of Youth, Sports and Culture Dr Daniel Johnson: "This story unfolded in a most amazing way," he said. "We went there to do several things. We left as Olympic champions as one of the most prestigious relays ever that has been dominated by the United States of America for decades, and I think the best is yet to come."