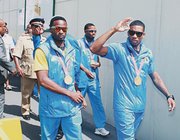 THE Ministry of Youth, Sports and Culture will host a float parade on Saturday as a part of the government's official programme of activities to recognise 'Team Bahamas', the 2012 Bahamas Olympic Team.
The parade will begin at 2pm at the parking lot southeast of the new Thomas A Robinson National Stadium.
The parade route is as follows:
From the parking lot, south to Tonique Williams-Darling Highway, east to the roundabout at Baillou Hill Road, north on Baillou Hill Road to Navy Lion Road, on to Bay Street and then to Mackey Street, south on Mackey Street to Wulff Road, west on Wulff Road to Poinciana Drive, west on Poinciana Drive to the roundabout at Nassau Street, north on Nassau Street to West Bay Street, ending at Junkanoo Beach, Long Wharf at 5pm.
Individuals, organisations and junkanooers wishing to participate in the float parade using their vehicles or trucks with music are requested to assemble in the parking lot southeast of the new Thomas A Robinson Stadium no later than 1pm.
The general public is invited to line the parade route in support of Team Bahamas and the accomplishment of our gold medal winning 4x400 meter men's relay team.