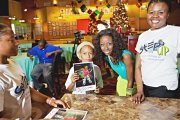 By JEFFARAH GIBSON
Tribune Features Writer
jgibson@tribunemedia.net
THE STEP UP national fitness initiative designed to tackle childhood obesity and promote healthy lifestyles was launched last week.
The event was presented by Colina Insurance Limited and featured a three day Zumbathon, where celebrity instructor Erica Pierce,held classes with students and adults at Club One Fitness Centre.
Melanie Hutcheson, corporate communications officer of Colina said the programme is designed to address three key components of child wellness: nutrition, fitness and preventive healthcare.
"Our primary objective was to introduce a new outlet for physical fitness among children and teens that could translate to their parents as well. We actually saw the lightbulbs go on in their heads when they realized that their love for dance could be an avenue to help them and their families get fit. We're calling it exercise in disguise."
However, the highlight for me was actually visiting Doris Johnson Senior high School and practicing with a physical education class. Each girl embraced us and our motives wholeheartedly and taught us a thing or two. At recess, the whole school got involved. It was an enlightening experience, she told Tribune Health.
According to statistics, Ms Hutcheson said, the percentage of overweight children in the Bahamas aged 6 to 11 increased from 6.5 per cent in 1980 to 19.6 per cent in 2008, while certain popular leisure activities lead children and teens to become less physically active.
"We shared statistics on excess weight among children and their correlation to chronic disease and quality of life. We also asked each child to sign an activity pledge that asked them to commit to 60-minutes of physical activity each day and to encourage their family members to do the same. We also shared options for exercise that make fitness fun."
During 2013, Ms Hutcheson said the programme will educate children, teens and parents on nutrition, exercise and preventive health. She said they will work with selected schools to develop a programme that highlights these objectives in a fun learning environment.
Some of the activities will include a school garden initiative and a generational relay with parents and grandparents, which "symbolises the role all generations play in child wellness".