By BRENT STUBBS
Senior Sports Reporter
bstubbs@tribunemedia.net
Chris "Fireman" Brown feels that it was a blessing in disguise that his Bahamas Invitational Track and Field Meet didn't come off.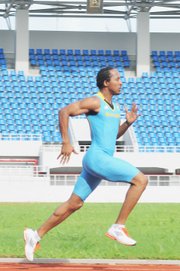 Brown, the Bahamas' most decorated men's 400 metre runner, was hoping to stage the first Chris Brown Bahamas Invitational in April, but after even toying with the idea of taking it to Grand Bahama, he put the plans on the shelf and was forced to focus on pulling if off next year.
Home for today's funeral service for the late "godfather" of track and field Thomas Augustus Robinson, Brown said he's even more committed to the invitational becoming a reality on Saturday, April 13, at the new Thomas A Robinson Track and Field Stadium.
"It's always a pleasure to be home, even though I it was under different circumstances," Brown said. "It's always good to bond with family and friends and always enjoy some Bahamian down home food. But the Lord makes no mistakes. The stadium should be ready because of the fact that Carifta will be held here in March and I'm planning for the meet to be held in April.
"So I'm really looking forward to it. I'm still working and fine tuning some things right now. But I'm looking forward to it."
While the date has been set, Brown said he's not yet prepared to reveal which athletes he expects to participate. He just wants the public to get ready for the show.
"I think with me trying to put the meet on last year, I noticed that there's a lot of work that needs to be done that I didn't do this year," he said. "So I think that is preparing me to be able to host the meet properly next year. I'm looking forward to it. There's a lot of paperwork involved and a lot of planning that I have to do.
"It's not just about putting on a meet just to say I'm putting one on. So I'm learning a lot from my experience in doing it and hopefully the Bahamian people will get a chance to come out and really see some of the top athletes in the world compete in our new stadium."
Brown, the 34-year-old native of Wemyss Bight, Eleuthera, will also be preparing for his 14th season on the professional circuit, the longest by any of the Bahamian male athletes. He noted that he was even more inspired after running the lead off leg on the men's 4 x 400 metre relay team that snatched the gold from the US at the London Olympic Games in August.
"I've already started working out already and I'm definitely going to be changing up a few things that I've been doing over the past few years," he said. "This gold medal performance has been grabbing me here and there because I have to be at certain places at various times.
"So I have to adjust and put all of that into perspective and still enjoy some time with my family. But everything is definitely working out. With God on my side, he has the master plan, the blueprint. So I will see what happens when I follow his plans. But I'm looking forward to competing again next year."
As for the new year, Brown said he anticipates running a few meets indoors, but the focus will be on the outdoor season and the road to the 14th IAAF World Championships in Moscow, Russia, August 10-18.
"I'm looking forward to the new season and just getting back out there and stepping on the track and representing the Bahamas," he said.
Brown, who made the transition from the 800 metres to the 400, will be going after his first individual medal at the World Championships after finishing a disappointing fourth place in Daegu, South Korea in 2011.
However, he has ran on a gold medal 4 x 4 relay team in 2001 in Edmonton, Canada, silver in both 2005 in Helsinki, Finland and 2007 in Osaka, Japan and bronze in 2003 in Paris, France.
While he also got a fourth place finish in the 400 at this year's Olympics, Brown finally got the elusive gold on the 4 x 4 relay in London, England after settling for silver in Beijing, China in 2008 and bronze in Sydney, Australia in 2000.
This year, Brown also picked up a bronze at the IAAF World Indoor Championships in Istanbul behind Grand Bahamian Demetrius Pinder's silver medal that produced an historic feat for the Bahamas.
Two years ago in Doha, Brown won the gold. He also got a pair of bronze in Moscow in 2006 and Valencia in 2008.
Additionally, Brown has also won a gold in the 400 at the Pan American Games in Rio de Janeiro in 2007, the same year that he helped the Bahamas win the 4 x 4 gold. He also won a 400 bronze and gold in the 4 x 4 relay at the CAC Championships here in 2005 after producing a silver in the 400 and gold on the 4 x 4 relay team in 2003 in St George's, Grenada.
And as a junior athlete, Brown clinched a bronze in both the 400 and 800 at the Carifta Games in 1997 in Bridgetown, Barbados.
Along with the Olympics and World Championships, the only other international meet that Brown has failed to win an individual medal is the Commonwealth Games.
Before his career is done, Brown said he would like to achieve at least one, if not all of those goals.