By BRENT STUBBS
Senior Sports Reporter
bstubbs@tribunemedia.net
AFTER having his four game winning streak snapped with an injury to his right wrist in his last bout on May 12, Meacher 'Pain' Major has decided to return to his long-time American coach Anthony 'Chills' Wilson in Hollywood, Florida, to prepare for his next fight.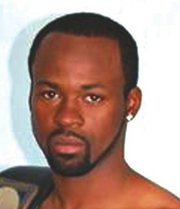 Major, the 31-year-old Kemp Road resident, is all set to travel to Houston, Texas, on Tuesday to take on undefeated Mexican native Jose Felix Jr in a lightweight showdown on Saturday, December 15.
Major will be going into the fight with a 20-5-1 win-loss-draw record. 20-year-old Felix Jr, who is coming off a 10-round unanimous decision against Luis Cruz on September 13 at the Hard Rock Hotel and Casino in Las Vegas, Nevada, is 20-0-1.
"Thank God for everything. Even though I fractured my hand, I had a six month lay-off and now I'm back," said Major from his training site in Hollywood. "I'm just glad that I'm getting this opportunity to fight again. It's an HBO undercard, so it's going to be a good opportunity for me to get some exposure. I'm grateful that I will get an opportunity to overcome my last defeat that took place in Canada."
In that fight on May 12 at the Hershey Centre in Mississauga, Ontario, Canada, Major got stopped in the second round of the scheduled 12 round bout for the NABA super featherweight title against Logan McGuinness. It was a painful loss that saw Major fight with the injury to his hand that he sustained during the training camp in Buffalo, New York.
Major said the fight, which was his first loss in five outings since he got stopped in the fourth round by Dorin Spivey for the NABA lightweight title at the Convention Center in Buffalo, New York. Since then, Major said he decided to go back to Wilson to resume his training.
"I'm grateful that he's back in my corner," said Major of Wilson. "We always had that bond and so he was able to get me refocused and everything. When I was in New York, everything was centered around me and I'm not used to that. In Hollywood, there isn't as much pressure, so I'm a lot more focused on what I have to do.
"With my style of training that I'm used to having with Chills, I had to go back to the drawing board and correct some of the things that I was doing wrong. But I'm refocused now and I'm eager to get back into the ring and fight again next Saturday night."
Although he's only aware that Felix Jr is an undefeated fighter from Mexico, Major said he's not concerned because he's "going to go there and pick him apart.
"This is a great opportunity for me and so I'm going to go there and perform at the best of my ability."
With about a week left before he heads to Houston, Major said he's putting his last loss behind him and he's putting the future ahead of him and that is Felix Jr, whom he indicated Wilson is making sure that he's prepared for the challenge.
When contacted, Wilson said he didn't know what took Major so long to return home.
"He came back with his timing off, his rhythm off. I'm like 'what in the world is going on'", he said. "But he's back in the camp. I just wished we had a little longer to prepare him for December 15. He's coming along real good. I just had to get him rhythm and timing back. It's not all together yet, but it's coming.
"Hopefully by fight time, he will be ready. He's been running, training and resting. We have to box this guy because he's a strong kid from Mexico, so Meacher has to box smart. As long as he listens to the instructions that I give him, he will be fine. Oscar de la Hoya is building him up, but Meacher just has to bring his A game and he should be all right."
Major said he just wants to shake off the ring rust and get in some action.