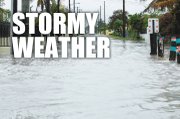 SEVERE WEATHER WATCH
THE BAHAMAS DEPARTMENT OF METEOROLOGY HAS ISSUED A SEVERE THUNDERSTORM WARNING FOR NORTH AND CENTRAL ELEUTHERA FROM 11:05AM EDT UNTIL 2:00PM EDT, THURSDAY 06TH, DECEMBER 2012.
A SEVERE THUNDERSTORM WATCH IS NOW IN EFFECT FOR NORTH AND CENTRAL ELEUTHERA AND ITS ADJACENT WATERS.
AT 11:00AM EDT RADAR AND SATELLITE DATA INDICATED CLUSTERS OF THUNDERSTORMS SPREADING ACROSS THE MENTIONED ISLAND.
THESE THUNDERSTORMS WILL BE SEVERE AT TIMES AND ARE CAPABLE OF PRODUCING STRONG GUSTY WINDS, DANGEROUS LIGHTNING, HEAVY DOWNPOURS AND POSSIBLE WATERSPOUT OR TORNADIC ACTIVITY.
BOATERS IN THE WATCH AREAS SHOULD REMAIN IN PORT OR SEEK SAFE HARBOUR AND RESIDENTS IN THE WATCH AREA SHOULD STAY INDOORS AND AWAY FROM WINDOWS UNTIL CONDITIONS IMPROVE.
ISSUED BY: GEOFFREY GREENE
SENIOR METEOROLOGICAL OFFICER