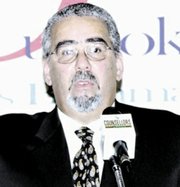 By NEIL HARTNELL
Tribune Business Editor
nhartnell@tribunemedia.net
The Bahamian court system is "still not comparable" to one required to serve the international business centre this nation aspires to be, a senior QC has told Tribune Business.
Brian Moree, senior partner at McKinney, Bancroft & Hughes, having just returned from a leading international arbitration centre at The Hague, said the Bahamas had "got a long way to go" to catch up with the leading legal centres.
Noting that the Bahamas' latest six place slippage in the World Bank's Ease of Doing Business rankings to 77th, Mr Moree said this nation had "to accept there are a lot of things to do" if it was to become a leading international business centre.
Calling for the country to focus on its technology and communications platforms, plus the investment approvals process, the well-known QC said the World Bank report's findings were "bound to have an affect" on the Bahamas' business prospects and growth.
Noting the limited computerisation in the Bahamian court system, Mr Moree compared this to The Hague's arbitration centre, telling Tribune Business: "We've got a long way to go to catch up to those guys."
The leading QC said The Hague was equipped with technology, and court reporters with multiple language and translation skills, able to translate proceedings in real time into three-four languages.
"It was a bit of an eye opener," Mr Moree said. "Our court system I'm afraid, at the moment, is still not comparable to a court system serving a major international business centre. We need to include higher levels of technology in our court system."
Noting that the author of the 'Ease of Doing Business' report carried much weight in the international financial and business community, Mr Moree told Tribune Business: "It's disturbing that our ranking has decreased rather than increased, and that's bound to have an affect on our business growth.
"I think if we're going to promote ourselves as a major international business centre, we're going to have to accept there are a lot of things to do. The things I think continue to be issues for the Bahamas are generally the cost base for doing business, the bureaucracy that continues to exist with regard to many aspects of business, and the technology platform which facilitates business.
"E-commerce and e-business is something the Government has focused on to some extent, but we still have a long way to go. The reality is our model has moved from an offshore financial centre to an international business centre, which makes a lot of sense for the Bahamas, but we have to understand that if we're going to develop into a premier, first tier international business centre, we have a lot of infrastructure we have to upgrade and put in place."
When it came to tackling bureaucracy, Mr Moree said the first target should be that surrounding the investment approval process for both foreign and Bahamian businesses. While not identifying, or calling for, specific procedures to be eliminated, Mr Moree noted that numerous government departments and agencies were required to give permits for one project.
"We've got to see if we can simplify the process," he told Tribune Business. "I'm aware we've tried to provide this concept of a one-stop shop to provide investors, local and foreign, with assistance through these procedures. That is a good first step, but has not eliminated all the bureaucracy in the process.
"Once you get approvals from the Investments Board and National Economic Council (NEC), those approvals are supposed to facilitate all the ancillary approvals required."
On a typical hotel project involving overseas investors, Mr Moree said permits were required from the likes of Immigration, the Ministry of Works (Department of Physical Planning and Building Control), Town Planning, the public utility Corporations, the Ministry of Tourism and, potentially, the Department of Environmental Health Services.
"The process of doing business in the Bahamas needs to be carefully reviewed, and we need to rationalise procedures and approvals," Mr Moree told Tribune Business. "It's a question of efficiency and rationalisation so you avoid duplication in terms of your various permits, and we have to look and see if we can't combine some procedures."
The QC added that all this added to the cost base for doing business in the Bahamas, coupled with the absence of clearly defined timelines for when permit applications would be processed.