By JEFFARAH GIBSON
Tribune Features Writer
jgibson@tribunemedia.net
GOSPEL musician Dj Counsellor is not waiting until next year to launch new projects. The artist recently completed and released his fourth studio album "Kingdom Culture".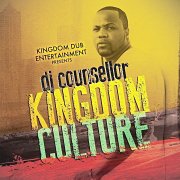 Like most of his projects, "Kingdom Culture" is an inspirational one and promotes the Christ-like life that believers are to live consistently. 
All of the songs on the album are centred on this theme, and encourages Christian by giving practical ways to live  kingdom cultured  lives.
The 12 twelve tracks on the album, include the songs Jesus Girl and Friends, which are currently circulating the airwaves. Jesus Girl features Sammi Starr.
"The song is just encouraging women to get more involved with the things of God and not the things that are in this world. It encourages women to seek to be beautiful instead of sexy. To often women are concerned about how they look and concern themselves with being sexy, but once you are in Christ there is no need to be sexy because you are already beautiful," he said.
"Friends" is another track from the album that encourages Christians to examine whether their relationships are hindering their walk with Christ.
"It's important for them to judge whether or not their friends are a liability or an asset to their lives."
"The thing I want this album to do most is influence this generation of Christians to immerse themselves in the culture of the kingdom. This means that language,  dress code, and every aspect of our life should reflect the kingdom of God," Dj Counsellor told Tribune Religion.
Presently, Dj Counsellor is working on a short film entitled Kingdom Swag which he intends to release at the beginning of next year. The film also expands on the theme of allowing the kingdom of God to be reflected in every area of one's life. He is also working on releasing a marital arts film.
Apart from music and films, Dj Counsellor said he is in the process of writing his very first book.
 DJ Counsellor is a not only a Bahamian artist, he is also a youth specialist, life coach, music and film producer and the founder of  Kingdom Dub Entertainment Group.
As a youth specialist Dj Counsellor speaks at various high schools, conferences, children homes and prisons.
He is also the host of Kingdom Vibes TV. He has a Bachelors Degree in Theology from Destiny Christian University.
DJ Counsellor has performed at some of the top events throughout the Caribbean and United States. His music has taken him to Bermuda, Canada, Turks and Cacaos, Trinidad and Tobago, and throughout the Bahamas.
His previous album is  "Kingdom Swag", and is available world wide and distributed by GospelReggae.com.