By LAMECH JOHNSON
Tribune Staff Reporter
ljohnson@tribunemedia.net
A MAN, accused of attempting to kill three men in a bar on Christmas Day, was convicted of attempting to kill two of them, but was unanimously acquitted of an attempt on the life of the third.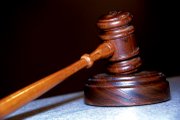 Tavare Mejias, 35, was found guilty of attempting to murder Darvin Forbes and Apricio Fox, but acquitted of shooting Trevor Stubbs on December 25, 2010.
Prosecutor Michael Cumberbatch alleged that Mejias opened fire on Fox, Forbes and Stubbs at a bar on Bethel Avenue that Christmas evening with an intent to kill.
According to evidence, Mejias pulled out a chrome coloured gun and opened fire on the men while they were watching a game.
Mejias originally had the legal services of Perry Albury who was appointed by the court as his attorney.
During the case, however, Mejias fired Mr Albury. He then had to represent himself when Justice Vera Watkins said she would not delay the case because of his issues with his court-appointed lawyer.
On Tuesday, Mejias made his closing submissions to the jury and said that the prosecution had not provided any evidence that he had committed the shooting on Christmas Day in 2010.
He said that apart from the testimony of two of the three alleged victims, the prosecution did not produce any handgun, bullet cartridges, fingerprints or confession statement concerning the shooting in question.
Prosecutor Cumberbatch said that a confession statement was not obtained or presented because Mejias had denied everything put to him by the police.
The prosecutor claimed the evidence of Forbes and Fox was strong and reliable.
In yesterday's proceedings, Justice Watkins summarized the evidence of the case. Following this, she excused the nine-member jury to deliberate. They returned with one unanimous not guilty verdict and two guilty, 6 to 3 verdicts.
Justice Watkins deferred Mejias' sentencing to January 18, 2013.