By LAMECH JOHNSON
Tribune Staff Reporter
ljohnson@tribunemedia.net
THE ATTORNEY General's office attempted to exercise its legal power when it sent a written directive to have a firearm and ammunition case discontinued against a couple.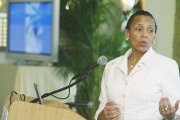 However, Deputy Chief Magistrate Carolita Bethell did not accept the nolle prosequi to discontinue charges against George and Janice Hayes because the document was not dated and there was no clarity as to who had signed it, despite the document having a seal.
The couple faces a charge each of possession of a firearm and possession of ammunition.
It is claimed that on February 3, 2010 the two were found in possession of a .380 pistol and 19 live rounds of ammunition for the weapon.
The accused, who according to his new lawyer Tonique Lewis was represented by now Attorney General Allyson Maynard-Gibson at the time, pleaded not guilty to the charges at their arraignment days after their arrest in 2010.
To this day, both deny the allegations against them.
In yesterday's proceedings, their attorney Ms Lewis appeared in court to give closing addresses in her clients' defence.
However, prosecutor ASP Ercel Dorsett addressed the deputy chief magistrate and said that the Attorney General's office wished to take a certain course of action.
No official from the Attorney General's office was present. The prosecutor then pulled out a document from a folder.
"This is a correspondent from the Attorney General's office," the prosecutor began, "giving a certain directive to discontinue these proceedings."
"Is this a nolle prosequi?" the deputy chief magistrate asked.
"Yes your worship," the prosecutor replied as he handed a document to the court.
"Whose signature is that?" the magistrate asked.
"It's an acting Attorney Genera's signature," the prosecutor answered.
"But it's undated. I cannot discontinue this matter because this," she said holding the document horizontally, "is undated, bear in mind it has a seal."
Deputy Chief Magistrate Bethell turned to Ms Lewis said that "it appears the Attorney General or their office, intends to have this matter discontinued."
"However, I cannot accept this. They have to date this and bring it back," the magistrate said, before questioning if there was an acting Attorney General and if so, who.
She asked the prosecutor if the clarifications could be ready as early as Monday, Christmas Eve, as court would be open.
The prosecutor said it would be sufficient time.
Ms Lewis suggested Friday, December 28, as a convenient date.
All parties agreed on the date and the matter was set for noon.
George and Janice Hayes are on bail.