By KHRISNA VIRGIL
Tribune Staff Reporter
kvirgil@tribunemedia.net
POLICE yesterday said they were following significant leads in their effort to find those responsible for a drive-by shooting outside Tall Pines MP Leslie Miller's home.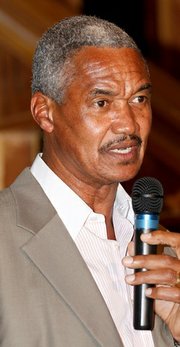 Detectives believe the incident was the result of a row which erupted between a few of the people attending a party at Mr Miller's house that night, according to Supt Stephen Dean.
"We believe," Mr Dean said, "that there might have been an argument at the party and some persons might have left and came back with weapons. We are trying to get to the bottom of it and are following some leads."
Despite police confirmation of the shooting, Mr Miller told The Tribune no such incident happened at his house.
He said: "Listen, if you are calling me for a comment on some incident, I don't have one to give. There was no incident at my house. You put all the information you need in the paper already, so why call me?"
The Tribune then explained to Mr Miller that all the information contained in Monday's article was issued by the police.
He declined to comment further.
During the early morning hours of last Saturday, police reported that a 15 year old boy and three other men were injured during a party hosted by Mr Miller's son.
Their injuries were described at the time as "non-life threatening". 
According to police, the shooting happened at around 1am when a vehicle drove past the MP's home on Sassoon Drive and opened fire on a group of people.
The vehicle then sped off, police said. 
A 2008 silver Honda Accord was also damaged during the drive by shooting.
Police are asking anyone with information to contact police as soon as possible at 919 or 328-TIPS.