By KHRISNA VIRGIL
Tribune Staff Reporter
kvirgil@tribunemedia.net
DESPITE attempts by Tall Pines MP Leslie Miller to downplay a drive by shooting outside his home, neighbours yesterday insisted that "pandemonium broke out in the area" in what they described as a "horrifying experience".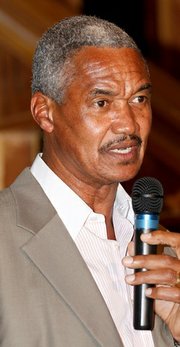 While police said they are still investigating the matter, Mr Miller on Monday denied that an incident occurred.
However, speaking to The Tribune under the condition of anonymity, a Sassoon drive resident said he was forced to "duck and dodge" bullets in an effort to save his life.
He added that had authorities from the Elizabeth Estates police station responded after being called twice, the shooting which followed could have been avoided. Four people, including a teenage boy, were injured during the incident.
"This neighbourhood," he said, "was held under house arrest for hours by the around 1,500 persons that attended this party. They were parked on both sides of the street. At some point, those drunkards who were at the party spilled over into the yards of other houses.
"I just knew something would happen because there were just too many people to host in a residential area. We were literally terrified after the six or seven shots rang out. Now here is Mr Miller saying that nothing happened, but people need to know the truth of what really transpired. The truth is we were scared, thankfully nothing happened to any of us."
The party at Mr Miller's residence was advertised on Facebook, The Tribune understands.
So far police said they can only confirm that the shooting was the result of an argument between a few of those attending the party.
During the early morning hours of last Saturday, police reported a shooting at around 1am at Mr Miller's home when a vehicle drove past the MP's home and opened fire on a group of people.  
A 2008 silver Honda Accord was also damaged during the drive by shooting.
Anyone with information is asked to contact authorities at 919 or 328-TIPS as soon as possible.
Several unsuccessful attempts were made to contact Mr Miller yesterday.