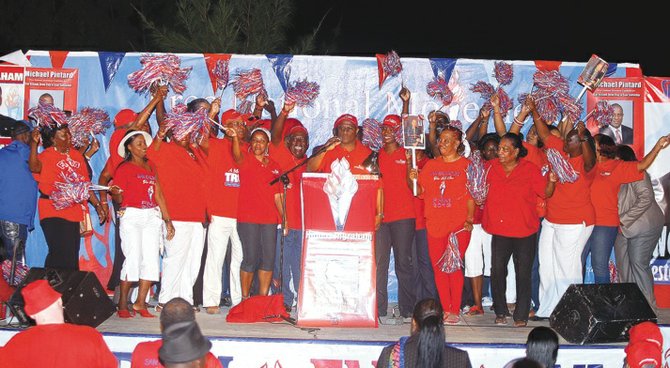 By LAMECH JOHNSON
Tribune Staff Reporter
ljohnson@tribunemedia.net
PRIME Minister Hubert Ingraham told a crowd of Free National Movement supporters in San Salvador that Senator Michael Pintard was handpicked to deliver that constituency to the FNM.
During a rally in Cockburn Town last night, addressing the small island residents, the FNM leader told them that other constituencies had requested Mr Pintard as their candidate to run in the upcoming general elections.
However, he said he was pleased San Salvador proposed Mr Pintard to be their representative.
"Michael was especially and carefully chosen for you. He is a focused and driven man. He will do you proud as your MP."
"San Salvador," he said, "you told me you wanted Michael. You weren't the only constituency that wanted Michael. East Grand Bahama wanted him too.
"He lives in Grand Bahama and it would have been more convenient and less expensive for him to run there - a seat that is FNM."
"I told East Grand Bahama that they couldn't have Michael; he had been spoken for. Tonight I deliver Michael to you! He has my full confidence, and he has the full confidence of our party. Now it is up to you to make him the next Member of Parliament from this constituency."
Mr Ingraham admitted that he was "very happy" when the Constituency Association's leadership proposed Mr Pintard as the preferred candidate of the people of San Salvador.
"I was doubly pleased when I heard that they were calling for him in Cat Island and that Rum Cay was endorsing him for our party's nomination" he added.
The PM reasoned that now was the perfect opportunity to elect an MP who would attend to their needs and represent them well, which he said, the PLP's deputy leader Philip "Brave" Davis, current MP for that constituency, does not do.
"Your current MP has taken you for granted for too long. He spent most of his time in the House as a backbencher with no national responsibility; he was never a Minister in the Government. So he had plenty of time on his hands."
He asked: "Did he use his time to come to see you, to attend to your needs, to your community's needs and to see after your development? Unfortunately, no, he did none of that. He was busy looking after his own interests. Where are his footprints in San Salvador? Before I leave tomorrow, show them to me!"
The Prime Minister noted that unlike the current MP, Mr Pintard would ensure that San Salvador "gets its fair share of each and every Government programme - in fact, he will make the case for why you should get more than your fair share."
"In Michael," he said, "you have a good man; a trained agriculturalist, with experience in the financial services sector, an accomplished and acclaimed playwright and a poet."
"Michael Pintard is truly what we might call a Renaissance man. A small businessman himself, Michael is committed to strengthening programmes in support of small business development."
"His experience makes him the ideal man to help frame new and additional programmes in support of your development here in San Salvador."
The PM concluded that the island had been "neglected by your incumbent MP and that rankles Michael's sensibilities!"
"I believe, and Michael believes, and the FNM believes, that it's time for you to have a representative who cares about you and about people like you."