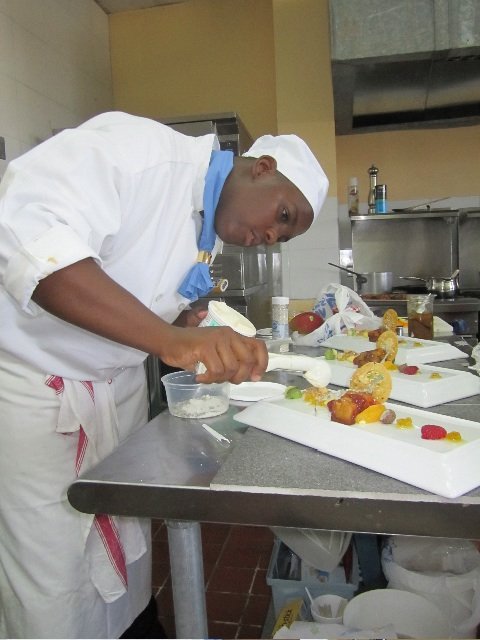 DEFENDING All-Island Senior Young Chef champion Dwayne Sinclair emerged as the winner of the competition's 2012 New Providence leg.
After the results were announced, the Temple Christian High School student said he plans to again compete in the national championships, scheduled to be held on March 15 when $3,300 in scholarships will be at stake.
"The competition again saw a number of new and interesting dishes," said Sharon Ferguson, Ministry of Education home economics officer and co-ordinator for the championships.
The event, now in it's 20th year, is sponsored by Mahatma Rice and Robin Hood Flour, both distributed in the Bahamas by Asa H Pritchard Ltd, and is organised by Keith Parker of PS Advertising and Public Relations.
Dwayne won with 709 points, gaining 355 points for his Island Crack Conch Cannelloni with Lobster and Corn Relish and 354 points for his Bahama Pina Colada Explosion, judged "Best Mahatma Rice" and "Best Robin Hood Flour" dishes, respectively.
Chef Ron Johnson of Savory Art said: "Annually, the Junior Chef Competition consistently impresses me and other professionals in the culinary field. It is remarkable to see the display of creativity and skill from high school students.
"I am assured in saying that the variety and types of dishes they concoct are advanced for their level; I can't even remember making these types of dishes at such a young age. Every year the level progresses, as it should.
"Mr Dwayne Sinclair's dishes were truly paramount in terms of execution, creativity and skill. For a split second, I thought a professional chef was in the kitchen.
"It was amazing how he maximised flavours and complemented them.
"For example, the way he wrapped his cooked rice around the flattened conch (similar to sushi) and presented it quietly put a smile on my face. I look forward to seeing his star rise in the culinary galaxy."
The runner-up was Antonique Williams of CV Bethel Senior High School with 686 points.
She scored 352 for her Sunshine Rice Roll and 334 for Chocolate Strawberry Double Decker.
Third place went to Deja Burrows of Queen's College with 683 points.
Deja's Island Conch and Crawfish Tart with a Mango-Curry Essence scored 351 points.
Her Eleuthera Pineapple and Coconut Mahatma Rice Flan scored 332 points.
The top two go on to the 20th annual Mahatma Rice/Robin Hood Flour National (All Island) Senior Young Chef Championship.
Schools choose their own champion young chefs, who compete on each island or in a district.
Each island or district sends its own champion to compete for the title of Bahamas Champion Young Chef.
This year's final will be hosted at CC Sweeting Senior High School in Nassau.
Judging in New Providence were chefs Carolyn Bowe and Tiffany Barton of the Wyndham Resort; Ron Johnson of Savory Art; private chef Keisha Bonimy; and Eldred Saunders of the Culinary Hospitality Management Institute (CHMI).