By RENALDO DORSETT
Sports Reporter
rdorsett@tribunemedia.net
CHAMPION Amateur Boxing Club concluded another successful year as one of the country's leading boxing clubs and continues to develop future Olympians and world-class boxers.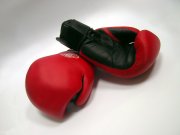 CABC ended 16th annual Ray Minus Sr End of the Year Boxing Show with a series of star studded bouts.
The coveted "Ray Minus Sr" Trophy went to Don Rolle, who was also the most outstanding boxer in the Primary Division.
Rolle won on points over Ashton Sturrup 10-8.
Devante McPhee was named the Most Outstanding Boxer in the Junior Division after he won on points over Garvin Rolle 17-12.
The Best Fight of the Night went to Javano Collins and Keiron Knowles (Junior Division) and Paul Rolle vs. Allan Joeseph (Primary Division).
Garvin Rolle was the Most Improved Boxer in the Junior Division while Shardrack Major won the award in the Primary Division.
Other scored matches on the evening included Shaquille Rolle with a 7-5 win over Tray Johnson and Garvin Rolle with a 13-10 win over Quintin Martin.
Exhibition matches included Kareem Martin and Michael Rolle, Lamont McPhee and Kobe Rolle, Shaquille Davis and Doncyn Cartwright, Shaquille Davis and Lester Brown.
"We are basically trying to accomplish a focus of purpose, which is to gear them towards the 2016 Olympic Games," said club executive Ray Minus Jr of the tournament. "That was why we named it the Olympic Movement because we want those boxers to start preparing in their minds and preparing physically for the 2016 Olympics because these same boys around the age of 15, 16 and 17 years old, they will have the experience under their belts to qualify for the Bahamas team."
The main attraction will feature Javano Collins against Keiron Knowles for the amateur light welterweight title and Lester Brown Jr versus Richard Charlton for the amateur bantamweight title. There will also be four other matches on the undercard.
Minus said it gives hope to these youngsters in that they have boxers such as Taureano 'Reno' Johnson, Valentino Knowles and Carl Hield, all of whom came out of this same programme and have excelled on the international scene.
"We know that we can produce Olympic prospects because we have already done it," said Minus of Johnson, who competed in the 2008 Olympics. "We feel like we can continue to keep these young men focused on the Olympics and give them the hope to achieve that goal of getting to the Olympics. Once they have the talent, we want to give them the opportunity."
After a successful and inspirational 2011, Minus looks forward to continuing the trend for the club in 2012. "We are very excited about what has transpired this year and we look forward to the boxers who are eligible for the awards," Minus said. "We don't know who will win them yet, but we know that the list is going to be a very interesting one."
Minus Jr encouraged the public to come and support the boxers with each event as they begin their trek to the 2016 Olympic Games in Rio de Janeiro, Brazil.
Event sponsors included Nirvana Beach, the D'Albenas Agency, Bahamas Vision Center, Original Patties, Battery and Tyre Specialists, Henry F Storr Electric, Ron's Electric, Doc's Pharmacy, Donald's Furniture, Wallace Whitfield and Co, Universal Dental and Commonwealth Bank.