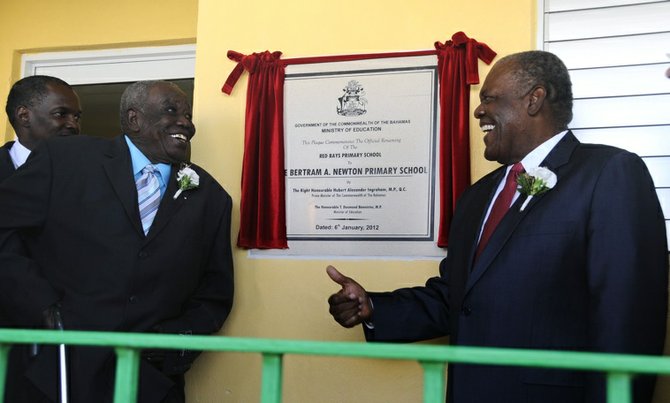 BELOVED Andros educator Reverend Bertram Newton was the first to be honoured in the month-long renaming schedule for several public schools in the country.
Prime Minister Hubert Ingraham traveled to Andros on Friday, to officially rename the Red Bay Primary School to Bertram A Newton Primary.
Mr Ingraham said he is privileged to rename the school in honor of a devoted son of Andros and a beloved member of the historic community.
"During his many decades as an educator, Rev Newton worked tirelessly to build competence, form the character and cultivate citizenship within generations of students," he said.
"Through his efforts, the children of Red Bays grew an appreciation of their West African and Native American ancestry. Rev Newton also sought to safeguard the natural and cultural heritage of Andros and our Commonwealth and he was as passionate about nurturing and safeguarding some of our greatest and most precious treasures. Our great national task, in honour and memory of Rev Newton, is to preserve our history and secure the nation's future by investing today in the promise and talents of students throughout our Bahamas."
Prime Minister Ingraham also said while the Government has an essential role in education the pursuit of excellence requires team work between parents, guardians, administrators,teachers and community leaders.
"It takes all of our efforts, public and private, individually and collectively, family and government, to cultivate the gifts of heart and mind, intellect and imagination, artistry and sportsmanship of our children. Our children and young people belong to us all. When they succeed the nation prospers, When they fail, it is our shared failure," he said.
"It remains a matter of priority for my Government that significantly more students in our public schools achieve greater competence in the basic skills of literacy, numeracy and oracy. In terms of literacy, more of our students must be competent in the reading, writing and comprehension of the English language. In terms of numeracy, more of our students must be competent in basic math skills. In terms of oracy, more of our students must be competent in oral communication with the ability to effectively convey thoughts and ideas."
Mr Inrgaham said we owe gratitude to the Rev. Newton, teachers as well as to all those who have taught throughout The Bahamas.
Four more schools are slated to be renamed in the upcoming weeks. These include: Bimini All-Aged School, renamed to Louise McDonald High School; Cabbage Hill Primary School, Crooked Island, renamed to Ulric H Ferguson Primary School; and the official opening of Anatol Rodgers High School and T G Glover Primary School.