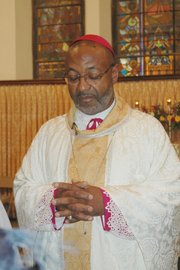 Anglicans from throughout the Anglican Diocese of The Bahamas and The Turks & Caicos Islands joined family, friends, and members of the wider community at Christ Church Cathedral, George Street, on June 28 to celebrate the 25th anniversary of the Right Reverend Laish Zane Boyd Sr, bishop of The Diocese of The Bahamas and The Turks & Caicos Islands.
The service took the form of a Pontifical Eucharist, with Bishop Boyd as the Celebrant. In attendance were The Most Reverend Drexel W Gomez, retired Archbishop of the Province of The West Indies, and Assistant Diocesan Bishop, and many Priests, including The Reverend Scott Brennen, Rector of St. Patrick's Anglican Church, Governor's Harbour, Eleuthera, accompanied by 15 acolytes.
Also in attendance were their Excellencies, Sir Arthur Foulkes and Lady Joan Foulkes. Lady Foulkes is a member of Holy Cross Parish, where Bishop Boyd served as Rector prior to ascending to the position of Diocesan Bishop.
The Venerable Harry Bain, Rector of the Pro-Cathedral of Christ the King, Freeport, Grand Bahama, and Archdeacon of the Northern Archdeaconry preached the sermon, and music was provided by the Anglican Youth Ensemble. Organist was Dr. Sparkman Ferguson and the Serving Choir was comprised of members of the Guild of St. Ambrose.
A lifelong Anglican and son of St. Agnes Parish, Grants Town, Bishop Boyd was born to the late Ruth C. Boyd (nee McNeil), and the late Wilton E. Boyd.
His early schooling took place at Quarry Mission and Wilton Albury Primary Schools, and Cathedral Day School. He continued his education at The Government High School and St. Andrew's School, where he was Head Boy.
In 1983 he graduated of King's College at Dalhousie University, Halifax, with a Bachelor of Arts Degree in Classics. In 1986 he completed studies at Codrington Theological College, St. John, Barbados with a Bachelor of Arts in Theology for the University of the West Indies, Cave Hill campus.
In 1986 he was ordained Deacon in St. Agnes Church, by the late Bishop Michael Eldon, and on June 24th, 1987, the Feast of St. John The Baptist, Patron Saint of the Diocese, he was ordained Priest.
Over the past 25 years Bishop Boyd has served the Diocese of The Bahamas and The Turks & Caicos Islands in many capacities, including Curate of the Church of Christ The King, New Providence (1986-1989), Rector of the Parish of Our Lady and St. Stephen, Bimini (1989-1992), Priest Vicar at Christ Church Cathedral (1992-1997), Rector of Holy Cross Parish, New Providence (1997 – 2006).
On February 24th, 2006, he was elected Diocesan Bishop, and consecrated on June 29th, 2006.
He served on the Board of Directors of Acts 29 Ministries, Atlanta, Georgia from 2002-2007.
Bishop Boyd is married to the former Joann M.A. Gray, and the father of three sons, Zane, Joash, and Nathan.