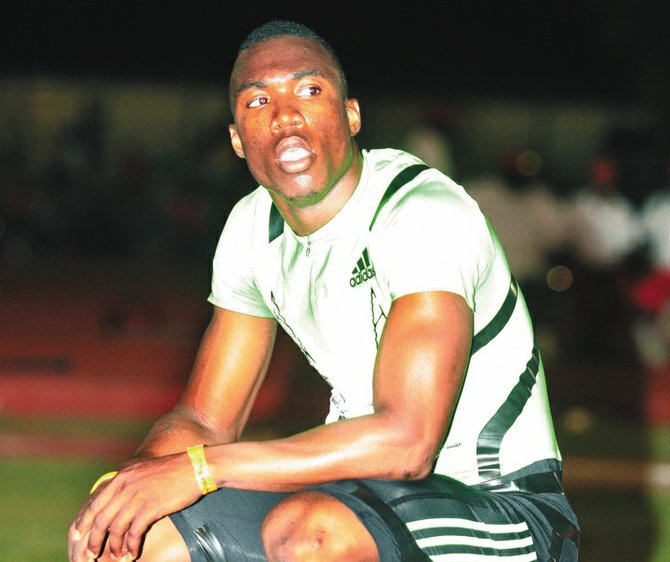 By BRENT STUBBS
Senior Sports Reporter
bstubbs@tribunemedia.net
A pair of individual medals and another from the relays from Grand Bahamian Jeffery Gibson and an Olympic A qualifying performance from Trevorvano Mackey highlighted the Bahamas' best performance ever with a total of six medals at the NACAC (North American Central American and Caribbean Athletics) Under-23 Championships in Guanajuato, Mexico, over the weekend.
While he didn't get an individual medal, Mackey teamed up with Warren Fraser, Marcus Thompson and Alfred Higgs for the silver in the men's 4 x 100 relay in 39.68sec. Mackey's 4th place in the 200 in 20.52 seconds for a personal best allowed him to go under the A qualifying standard of 20.55 for the 2012 Olympic Games.
Although the Bahamas Olympic Committee named a 23-member team on Friday that will compete at the Games July 27 to August 12, the NACAC Championships provided that last window of opportunity for athletes to qualify and Mackey took advantage of it as he booked a lane along with Michael Mathieu, the first automatic qualifier.
The BOC and the BAAA are expected to verify Mackey as an addition to the team this week.
Gibson, meanwhile, led the Bahamas' medal haul of one gold, three silver, and two bronze medals by winning the gold in the 400 meter hurdles in a personal best of 50.27 seconds and he got a bronze in the 400m in another personal best of 46.30sec for the third fastest time ever achieved by a Bahamian as he trails only Greg Rolle, who ran 49.46sec in 1983 and David Charlton who ran 50.07sec that same year.
Gibson also joined Alfred Higgs, Danzel Forston and Alonzo Russell for a bronze in the 4x400m relay.
Silver medals were won by the women's 4x100m relay team of V'Alonee Robinson, Krystal Bodie, Ivanique Kemp and Amara Jones in 45.71sec and the men's 4x100m with Trevorvano Mackey, Warren Fraser, Marcus Thompson and Alfred Higgs in 39.68sec.
The other bronze medal came from J"Vente Deveaux in the triple jump with a distance of 15.90m (52'2-1/2").
Other finalists were: V'Alonee Robinson fourth in the women's 100m in 11.56sec; Ivanique Kemp - 4th in 100m hurdles in 13.34sec; Amara Jones - 4th in 200m in 23.54sec; Nate Arnett - 4th in 400m hurdles in 50.71sec; Kenya Culmer - 4th in high jump with a height of 1.74m (5'8-3/4"); Alonzo Russell - 5th in 400m in 46.56sec; Krystal Bodie - 7th in 100m hurdles in 13.67sec; Nathan Arnett - 8th in 110m hurdles in 14.31sec; Amara Jones - 8th in 400m in 54.04sec and Juliana Duncanson - 8th in shot put with heave of 12.71m (41'8-1/2").