By LAMECH JOHNSON
Tribune Staff Reporter
ljohnson@tribunemedia.net
A TEENAGER has been charged with sexually assaulting a nine-year-old boy.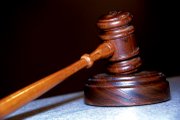 Thomas George Small, 19, of Teek Lane, stood before magistrate Guilimina Archer facing a charge of unnatural sexual intercourse that allegedly took place between January 1 and June 30.
Small, also known as Kerwin Thomas Small, of Sunshine Park, was not considered for bail due to the charge. He was remanded to Her Majesty's Prison until completion of his trial in September.
Small was not the only male to be arraigned before magistrate Archer in connection with an alleged sexual assault.
Doyle Fox, 60, of Sweeting Street, was arraigned on a charge of unlawful sexual intercourse with a 15-year-old girl on July 6. He pleaded not guilty to the charge.
He was granted $10,000 bail with reporting conditions and a warning to stay away from the virtual complainant and other witnesses.
Tavon Williams, 31, of Soldier Road, was another man facing a sexual assault charge yesterday. He was arraigned before Chief Magistrate Roger Gomez on a charge of rape.
It was claimed that he had sex with a 19-year-old girl on June 30 without her consent.
His co-accused, 21-year-old Christopher Butler, of McKinney Drive, Carmichael Road, had already been arraigned and was remanded on July 4 in connection with the case.
Williams was not required to enter a plea to the charge due to the nature of the alleged offence and was remanded to prison until completion of his trial.
Before he could receive a date to be served with a voluntary bill of indictment that would directly forward his case to the Supreme Court for trial, Williams pleaded with the chief magistrate to consider him for bail.
"I have two young lovely daughters whom I'm the sole provider for. This incident I get in, it ain't how it look," he told the magistrate.
The magistrate stood the matter down to today for a bail hearing. Williams was remanded in custody.