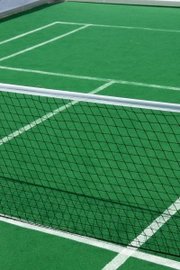 By RENALDO DORSETT
Sports Reporter
rdorsett@tribunemedia.net
THE season has been a struggle thus far on the international scene for young tennis ace Justin Roberts as he still searches for a deep run at a tournament title on the European circuit.
The 15-year-old Roberts fell in the second round of the Leeuwenbergh ITF 4 Junior Championships in Den Haag, Netherlands, after a 6-3, 0-6, 2-6 loss to Fabian Van Der Lans, the no. 419 ranked junior player in the world.
In the opening round, Roberts defeated Daniel Nolan of Austria, 6-3, 6-0 to advance to the second round. 
Since 2012 began, Roberts has competed in five tournaments in Europe. He has a current world junior ranking of 1,890.
At the Wilson ITF Junior Classic in January, he lost in the opening round to Lorenz Fink of Austria 6-2, 6-1 and in doubles he partnered with Sebastian Bonapart to reach the quarterfinals.
He was also ousted in the opening rounds of the Tennis-point Hamburg ITF, Swiss Junior Trophy, and reached the second round of the qualifying draw in the ITF 4 Indoor Almere.
One of the top junior players in the Bahamas, Roberts was invited last year by the Global Tennis Legacy Foundation to train with 11 of its other elite tennis players at the Club Med in Sand Piper, Florida.
GTLF's ambassadors, John Van Lottum, Mahesh Bhupathi, Alexander Zverev, Gabriel Jaramillo (former coach of Agassi), Miguel Jansen, Charles Todd, Arjen Bijsterbosch and GTLF-Club Med experts worked and shared their global expertise with the selected junior tennis players who hailed from the Bahamas, Germany, Japan, Netherlands, and the United States.