By LAMECH JOHNSON
Tribune Staff Reporter
ljohnson@tribunemedia.net
CHIEF Magistrate Roger Gomez remanded a juvenile arraigned on charges of murder and escaping lawful custody to Her Majesty's Prison yesterday.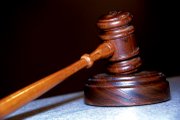 The nature of the charges, he said, was his reason for not having the 17-year-old of East Street sent to the Simpson Penn for Boys until he returns to court in November to be served with a Voluntary Bill of Indictment to speed up his trial.
The 17 year old is arraigned before the chief magistrate first on the murder charge.
It is alleged that the teen, on Monday, June 25, murdered 22-year-old Javon Mullings.
Mullings, on the afternoon in question, had reportedly got into an argument with another man over a woman.
He is accused of stabbing the man several times in his chest with a long kitchen knife during the argument at Union Village. Mullings was taken to hospital by a private vehicle where he later died.
The 17 year old is accused of the fatal stabbing.
It is further claimed that days later, on June 28, the teen, who was in police custody, escaped.
The teen was reportedly receiving medical treatment on the Male Surgical Ward 1 at the Princess Margaret Hospital for head injuries. He managed to steal a handcuff key from the sleeping officer who was guarding him.
Unlike the murder charge, the teen was allowed to enter a plea to the escape charge. He pleaded not guilty.
His attorney, Ramona Farquharson-Seymour, complained of police brutality against her client. She said he had been "slapped, punched and kicked about the body." She claimed he was also threatened with death and denied access to legal counsel.
"He also indicated that he had difficulty breathing and writing, yet a statement was taken from him," the defending attorney claimed.
She requested that her client be seen by a physician as soon as possible. The chief magistrate acknowledged the request.
When she inquired if her 17-year-old client would stay at Simpson Penn until November 28 when he will be served with the Voluntary Bill of Indictment, the Chief Magistrate told her that because of the charges, he would be remanded to prison.
The juvenile is remanded until the completion of his trial before the Supreme Court.