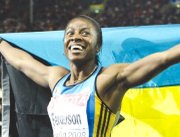 DEBBIE Ferguson-McKenzie is also penning a journal for The Tribune during the Games. This is her first report:
"HELLO Bahamas. By now you have seen the opening ceremony for the London 2012 Olympic Games.  
The athletes were given the opportunity take photos with basketball stars such as Kobe Bryant, Lebron James, etc, Bill Gates and a chance to take a picture of Her Majesty the Queen.  
What an honour!  We are so thankful to be here eagerly awaiting the competition.  
This year the Olympic team only consists of one female swimmer, the majority are athletics.  I hope to encourage others to dream and work on being present in 2016 for Brazil for a list of other sports.  
I am honoured and privileged to have met the High Commissioner in London, the Mayor of Crawley where our training camp was held, and the effervescent Governor General Sir Arthur Foulkes along with a host of dignitaries representing beautiful Bahamas.  
A special thank you to BTC and their trailblazing donation to the BOC...A big thank you for making London 2012 a dream come true for myself and Chandra (our 5th) but especially our young upcoming future stars this being the first of many to come.  
We are eager, ready and prepared to represent you, our beautiful Bahamas with everything we have - we are hoping to walk away with a few medals.  
Keep us in your prayers and a big thank you for all your support.  
A special hello from London to Thomas A Robinson.... you are in my thoughts and prayers...!  Love you Bahamas."