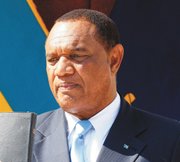 PRIME Minister Perry Christie yesterday announced that his government will be reviewing all outstanding projects initiated by the former administration in a bid to revive investor confidence.
Mr Christie outlined his plans to decentralize employment opportunities during his tour of redevelopment at the Cove in Gregory Town, Eleuthera, where he met with owner Sidney Torres IV to survey construction and formally establish the support of his administration.
The property has had multiple owners, but has never been a "success," according to Mr Christie, who described Mr Torres as a young and aggressive investor with lots of ideas and funding to support additional ventures in the future.
"I have been involved with people who have bought this property, sold this property, bought this property sold this property, never making it a success," he said.
"When I saw Torres buy the property, and then he came in with vision a vision to change it significantly to integrate it into a real resort, to build, to expand."
Mr Christie said: "Our policies must now be even more engaged with respect to small hotel properties. We cannot have an investor come into Eleuthera, this part where there is no other such investment, and fail, therefore we must get directly involved in what he is doing and give him the support he needs."
Built in 1969 as the Arawak Club, the Cove was also formerly known as the Pineapple Cove until its name was shortened seven years ago.
The revamped resort is set to open in November with 15 new cottages and three home sites, 33 of which will be completed over the entire length of the project.
There are an estimated 150 Bahamians currently employed for the construction of the resort. Once operational, Mr Torres said the property will require up to 150 full and part-time workers.
"We have big plans, and it's not saying we're going to do it, we actually started doing it," Mr Torres said.
"We've already broken ground and we're already about $3 million into the project, and employing about 150 Bahamians from all different settlements."
Although contracts were signed in February, the deal was not closed until last Friday, according to Mr Torres, who added that the approvals process was slow under the former administration.
"We were going through the approvals process and we couldn't get any answers," Mr Torres said.
"We kept calling and calling upon the previous administration and nothing would ever get done. When Mr Christie was elected it happened very quickly and we were able to close [the deal]."
He added: "To me that's exciting because with an investment of over 25 to 30 million on this small outer island we need the support of government and the people to make these kinds of things happen."
Mr Torres launched a private investment firm, IV Capital, in June after he sold his waste management company in New Orleans. He was a personal assistant to Lenny Kravitz, whom he credited with first introducing him to the island.
"I fell in love with (Eleuthera) just as (Mr Kravitz) fell in love with it, but the only difference was at the time, I didn't have any money to invest but times have changed, things are different and I'm very excited to be a part of the Bahamas."
Flanked by Minister of Investments Khaalis Rolle and Minister of Tourism Obie Wilchcombe, Mr Christie said it was up to both agencies to ensure that the development is adequately supported by the government.
Future initiatives include upgrades to airlift, increased marketing campaigns, and less "red tape" for investors.