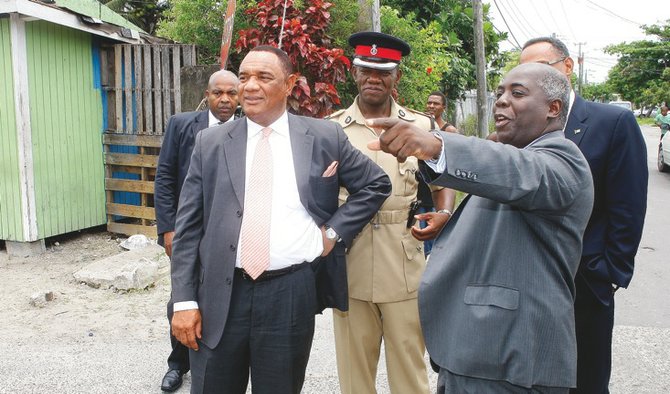 By DANA SMITH
dsmith@tribunemedia.net
FORMER FNM MP Algernon Allen has announced his support of the PLP's Urban Renewal 2.0 plan - "in the spirit of one Bahamas."
He was present on Tuesday for the demolition of two wooden structures on Rolle Avenue, signalling the physical start of the programme in Centreville.
Also witnessing the destruction of the derelict buildings was Prime Minister Perry Christie, Deputy Prime Minister Philip "Brave" Davis, and five cabinet ministers.
Mr Allen said to the press: "I come here in spirit of 'one Bahamas'. I come in that spirit which tells me that we ought to all work together to build the country.
"I sought to do that with the FNM who appointed me to the additional volunteers community and I'm certainly very supportive of Urban Renewal."
He recalled a $20,000 donation he made in 2004 to the Farm Road Marching Band for the purchase of instruments.
He did it to ensure Bahamian youth are "given some talents and some dignity in their lives that sometimes were bare of that because of that sheer circumstances in which they live," he said.
"I support the programme (Urban Renewal 2.0) 200 per cent. It is a very powerful social intervention programme and its seeks to transform lives in these communities which sometimes can be depressed," Mr Allen said.
"It will also help with the policing aspects of the community in that it will involve the citizenry in becoming the eyes and ears of the police in their new communities with their new energies."
In addition, he said, it includes "the element of health services" in terms of the environmental and public health officers assigned to the project.
He also noted the awards the programme has received under the previous PLP government.
"I cannot applaud more highly than already was acclaimed by those persons in the United States, the police chiefs and the rest as one of the premier community and safety intervention programmes ever conceived by a police force," Mr Allen said.