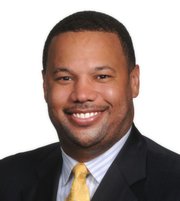 By CELESTE NIXON
Tribune Staff Reporter
cnixon@tribunemedia.net
ACCUSATIONS that the FNM bribed supporters in the lead-up to the election continued in Parliament yesterday, with Fort Charlotte MP Andre Rollins claiming he had evidence to prove it.
Rising on a point of order, Dr Rollins said the claims of PLP campaign corruption levelled by MP for East Grand Bahama Michael Turnquest were hypocritical, as the former government sought to secure political support by handing out contracts.
He said: "The fact is I have evidence to prove that the former administration was giving out contracts days before the election in the hopes of wooing supporters."
During a meeting of the Senate on Monday, Minister of State for National Security Keith Bell accused the FNM government of "handing out envelopes of money" on election day.
Mr Bell said on May 7 he witnessed first hand, men in FNM T-shirts handing out money and giving bribes. He also said the men were being protected by members of the Royal Bahamas Police Force.
"Let me tell you what I heard and saw directly, what I witnessed first hand during election day.
"On election day, the Free National Movement were giving out envelopes of money. The PLP government and I have evidence," he said.
Prime Minister Perry Christie has also accused the former administration of seeking to bribe voters with jobs and contracts.
But Desmond Bannister, FNM Senator, denied the former government was handing out cash during the election campaign and demanded Mr Bell withdraw his comments.
The FNM again denied the allegations when, in a press conference held at FNM headquarters on Tuesday, opposition leader Hubert Minnis rejected Mr Bell's claim that FNMs were "handing out envelopes of money on election day" and pointed out that the minister "might seek to explain why, particularly given his past career on the Royal Bahamas Police Force and the fact that as an attorney called to the Bahamas Bar he is an officer of the courts, he did not see it fit and necessary to report a crime which he alleges to have seen or which was reported to him".
He added: "Further, given his present position, he might advise if he proposes to have the police investigate the crime and cause charges to be laid."