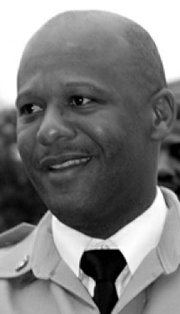 By SANCHESKA BROWN
Tribune Staff Reporter
sbrown@tribunemedia.net
DEFENCE Force officers could join or replace police officers on street patrols and other operations, Minister of State for National Security Keith Bell said yesterday.
On the heels of an emergency meeting called by Prime Minister Perry Christie on crime, Mr Bell said Mr Christie is now reviewing the exact role the Defence Force will play in regard to fighting crime.
"The Prime Minister and the Commissioner of Police are reviewing where the Defence Force officers will come in. It was discussed that they will replace officers on patrol when they are being pulled out for something else. They will also be used in joint co-operation and collaboration efforts with the police to patrol tourists sites and places frequented by visitors. There is currently no posting at some of these sites at all," he said.
"They have the same powers as police officers. The framework in the law allows them to be used in the same capacity as the police.
"They can enforce all the laws in the Commonwealth of the Bahamas. So they can be used for anything concerning national security even if that means going on patrol. That is something actively being considered."
Mr Bell said this initiative is just one of many the government is considering in response to the escalating crime rate.
Last month, May, the nation recorded its bloodiest month to date with 21 murders. So far for the year, 65 people have been killed in the Bahamas.
Mr Bell said police officers will also be saturating the streets of the capital to stop crime before it happens and catch criminals in the act.
"You saw coming out the meeting there was a saturation of law enforcement on the street. Everywhere you turned yesterday you saw law enforcement officers. I would like to commend the Commissioner of Police and the Commander of the Defence Force for their efforts," he said.
"Officers were out in full force doing their duties. There were searching and stopping vehicles and as a result there were no incidents last night. This is something that will be done for the long term. We are going to put an end to these type of incidents that we have been seeing, not just in these couple of weeks but in the last five years. You will see a change under the Christie administration and the PLP government.
"Yes, we have experienced some challenges but we are overcoming those hurdles. The FNM failed in their policy to protect Bahamians. They did nothing with substance to curb crime or murder. We will make a change."
Mr Bell said other initiatives were started as a result of the meeting but are "too sensitive in nature" to discuss.