By SANCHESKA BROWN
Tribune Staff Reporter
sbrown@tribunemedia.net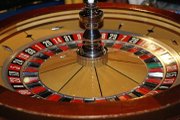 PRIME Minister Perry Christie said that permitting Bahamians to gamble in local casinos will not be considered in the referendum on a national lottery.
Speaking on the Budget debate in the House of Assembly yesterday, Mr Christie said while his government will hold a referendum on gambling, the regularisation of "number houses" and a national lottery will be the only thing up for consideration.
"As previously announced the government will hold a national referendum on the issue of web shop gaming and a national lottery, which holds the potential to make an important financial contribution in support of our national economic and social priorities in years ahead.
"I do want to stress, however, that this will be a matter for the electorate to decide one way or another in a transparent and fair process.
"I will also stress that the matter will in no way whatsoever involve consideration of permitting Bahamians to gamble in any of the casinos."
In the Speech from the Throne, the government promised to hold a referendum on a national lottery and the decriminalization or regulation of "numbers" houses.
"In accordance with its Charter for Governance, my government will also hold a referendum for the Bahamian people to decide whether a national lottery should be instituted and/or whether webshop-type gaming should be decriminalised, but nonetheless regulated in accordance with internationally accepted best practices and in a way that would ensure revenue generation for the country," Mr Christie said.
This is not the first time a referendum on gambling was promised. In 2010 former Prime Minister Hubert Ingraham said his government was considering legalizing and regulating the local number houses in the Bahamas.
However, after consultation "with a wide range of community leaders and other citizens, including leaders of the church, the government has decided not to proceed with the legalization of the numbers business."
Mr Ingraham said his government decided against holding a referendum before the general election as it did not want to "mix up the two."
As it stands gambling is illegal in all forms for Bahamians and non-citizen residents of the Bahamas.
It has been estimated that a national lottery could pump more than $190 million into the Bahamas' economy annually.
Currently there are at least 16 independent numbers houses in New Providence alone, with another six in Grand Bahama and a few spread throughout the Family Islands.
The Bahamas Christian Council (BCC) has gone on record opposing the legalization of gambling in any form in the Bahamas.
Last month, after the PLP announced they will provide details for a referendum on gambling within their first 100 days in office, President of the BCC Rev Dr Ranford Patterson said they are still opposed to the idea. He believes that more people are opposed to gambling than for it.
The BCC said they think the government should come up with alternative solutions to produce and create wealth in our country.